It's gotten a lot harder to get excited about reboots, reimaginings, remakes, or whatever word you want to use for something old being made new again. What used to be a rare opportunity to see something you love reemerge into the modern world has now become commonplace. Instead of taking risks, studios and networks are just recycling old intellectual property with a built-in audience. This isn't a comment on the quality of these rehashes; many are great, and some even surpass the originals. Instead, this is an expression of disappointment towards the oversaturation of reinterpretation over fresh ideas.
Related: These Are the Best Reboots and Remakes of Canceled TV Shows, Ranked
However, none of this fatigue was felt by a certain subsection of television comedy fanatics when it was announced almost two years ago that Party Down would be returning to Starz. The possibility of the show's revival has been teased since it was canceled in 2010, only a year after it premiered. Thankfully, the stars finally realigned, and new episodes are imminent. So what about this show made the audience respond so positively to news of a third season? Let's take a gander at what made Party Down such a resounding success and how its profile has only grown since it went off the air.
A Brief History of Party Down
Party Down tells the story of a Los Angeles-based catering company staffed by aspiring and former creatives trying to make it in Hollywood, played by Adam Scott, Lizzy Caplan, Martin Starr, and Jane Lynch, with Ken Marino as their bumbling boss, Ron. Additionally, Jennifer Coolidge and Megan Mullally also joined the cast in its second season. Scott stars in the leading role as Henry, an actor who's completely given up on his dream after only gaining fame as a product spokesperson. The show was created and mostly written by John Enbom, Rob Thomas, Dan Etheridge, and Paul Rudd. The creators called in some favors to bag big-name guest stars as well, including J.K. Simmons, Kristen Bell, and Ken Jeong, along with appearances from George Takei and Steve Guttenberg playing themselves.
The show's production was notoriously troubled due to low viewership, cast changes, and Starz not knowing what to do with its own program. The many issues included Jane Lynch leaving after season one to work on the far more successful Glee and Starz demanding that the show include more nudity. These, among numerous other problems, lead to the show only lasting two seasons. Despite this, its high quality made Party Down a cult hit.
Party Down's Hilariously Dour World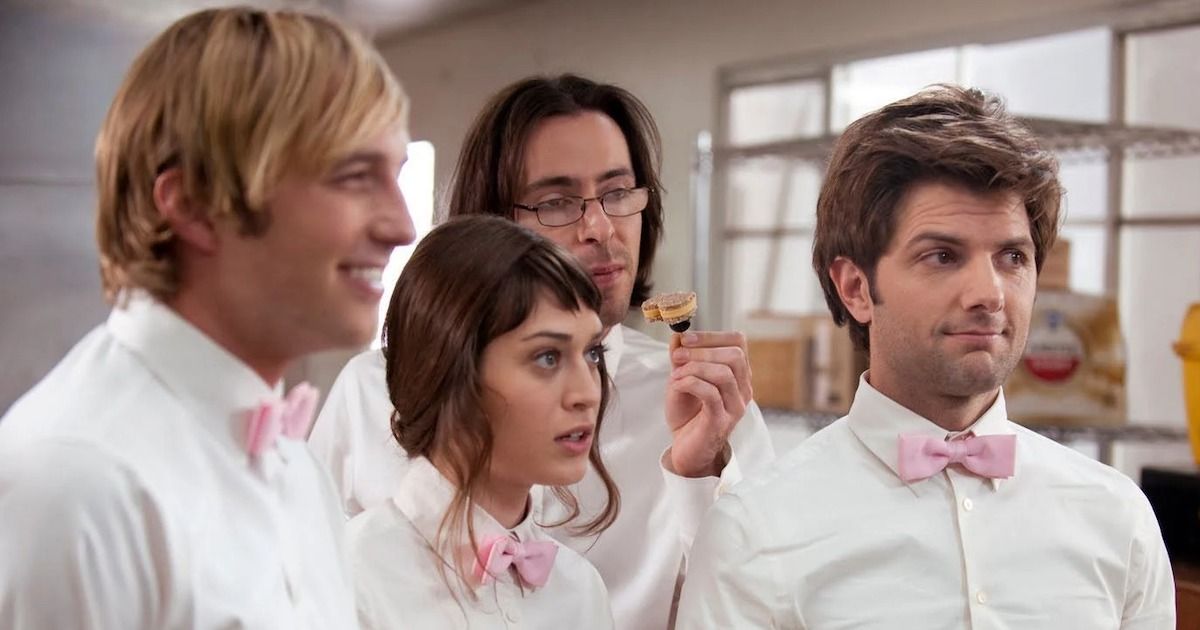 Somehow, all the behind-the-scenes drama did not affect the quality of Party Down in the least. The show is uproariously funny, with some of the best comedic television writing of all time. The show's pessimistic and mean-spirited worldview probably didn't help its ratings, but it leads to some of the medium's greatest jokes and darkly humorous situations. Of course, good writing can only go so far, but performances are stellar and complement the incredible dialogue perfectly.
While it's hard to pick just one moment to highlight how clever Party Down can be, one early highlight occurs at the end of the second episode, "California College Conservative Union Caucus." The scene features Ron (Ken Marino) accidentally burning an antique American flag in front of a crowd of young Republicans who were about to give the priceless heirloom to Arnold Schwarzenegger. Describing it doesn't really do it justice; you just have to watch it. Few shows have bits this entertaining, let alone in the second episode.
Streaming Saved Party Down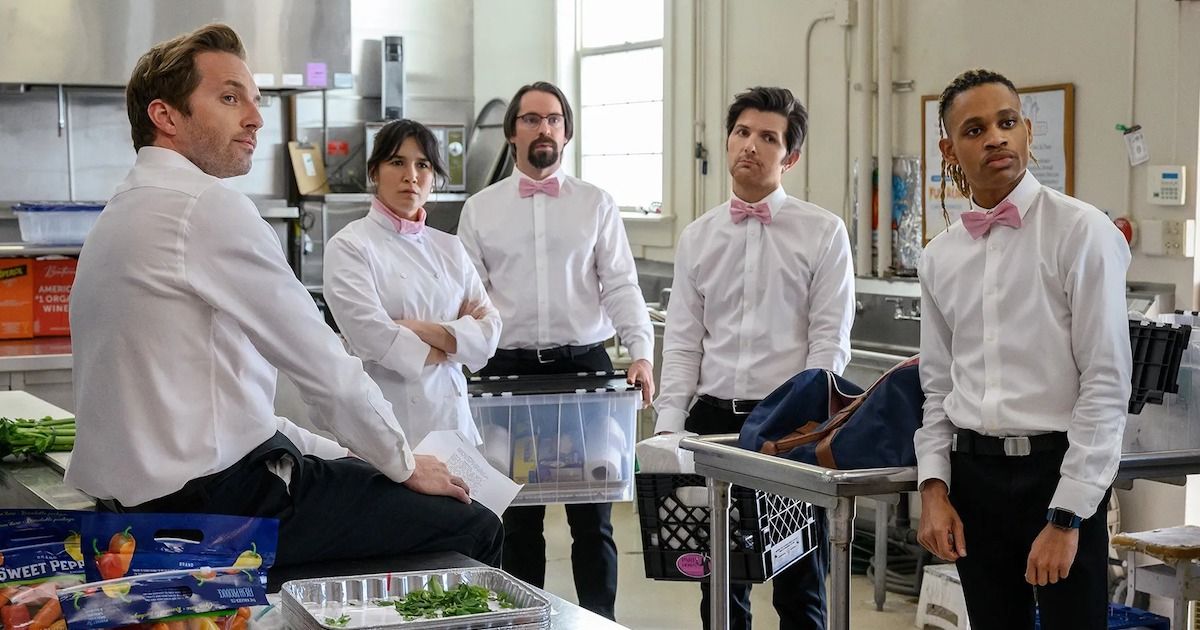 Almost all the credit for Party Down's return should be given to its fan who discovered the show on streaming after it was canceled. While the show's writer's and star's dedication shouldn't go unappreciated, word of mouth made the show a fan-favorite over the past decade. Additionally, as the cast gained new fans through appearances in shows like Glee, Parks & Recreation, and Silicon Valley, among others, Party Down's already impressive cast became the stuff of legends, which made it an easy recommendation. The show's early cancelation also probably increased its streaming popularity because of its low time commitment. While the show initially struggled, the past twelve years have allowed audiences to finally discover one of television's best-kept secrets and lift it out of obscurity.
Related: Exclusive: Party Down's Martin Starr and Ryan Hansen Adjust Their Bow Ties Again for the Series' Return
Party Down's story is somewhat similar to what happened with Arrested Development and Community, except both originally had many more episodes than Party Down ever did. As a result, fans of the show have had to make do with only streaming twenty episodes for more than a decade, which is the most thrilling part of this third season's existence. Party Down's near-perfect two-season run means that even if the revival is half as good, it will still be better than most other television. Thankfully, early reviews of the show have been mostly positive, and we'll get to see it for ourselves very soon.