Movies Reviews
Why Glass Onion: A Knives Out Mystery Shouldn't Get an Oscar for Best Adapted Screenplay
Glass Onion: A Knives Out Mystery has been nominated for an Oscar in the category of Best Adapted Screenplay. It's a bit confusing since neither Knives Out nor Glass Onion were adapted from a book, play, or any previously published material. Yes, it's easy to see writer/director Rian Johnson's influences. Notes from Agatha Christie and Herbert Ross are scented throughout his work. But inspiration does not mean an adaptation. But given that Glass Onion isn't adapted from anything, it shouldn't qualify for Best Adapted Screenplay.
By Oscar rules, a film must only be a sequel to qualify as "adapted." But the Academy has seen fit in the past to nominate certain sequels for Best Original Screenplay, and previous sequels that have won Best Adapted Screenplay have all been based on published works. The question then is, "how original is this screenplay?" The metric for adaptations, outside of being based on a previously published work, has been if the characters or story were taken from another source. And although Glass Onion is a sequel, there is a distinct lack of similarity between it and its predecessor. Even Rian Johnson wanted it to be an original tale. But apparently, Benoit Blanc was enough to take Glass Onion from Original to Adapted.
What Counts as an Adapted Screenplay?
The category for Best Adapted Screenplay is one that typically includes films that have been written based on source material. Famous winners include The Lord of the Rings: The Return of the King (2003), One Flew Over the Cuckoo's Nest (1975), and To Kill a Mockingbird (1962). All of these were based on novels, but previous nominees have also been written from the plots of plays and comic books. But technically, a movie is "adapted" so long as its characters and story are shared with another work. This includes other movies. So arguably, all sequels fall into the Best Adapted Screenplay category.
But the Academy has not followed this rule religiously. In 2004 the film Before Sunset was nominated for Best Original Screenplay. A drama by Richard Linklater, this film was a sequel to the 1995 movie Before Sunrise. In 2010 Toy Story 3 was nominated in the same category. Perhaps members of the Academy thought they belonged there because about a decade had passed between each movie and their previous iteration.
Related: Oscars 2023: All 20 Acting Nominees, Ranked
Conversely, all previous sequels that have won Best Adapted Screenplay have been based on primary source material. The Godfather Part II won in 1974, and this series of films is based on Mario Puzo's novel. Another example is Silence of the Lambs. Though not commonly recognized as a sequel, it was a follow-up to the 1986 film Manhunter. Both were based on novels by Thomas Harris.
The closest similarity between Glass Onion and a film nominated for Best Adapted Screenplay is one that used another movie for its source material. Two good examples are 2018's A Star is Born and 2010's True Grit. A Star is Born has been remade numerous times, and True Grit is a remake of the 1969 film. But Glass Onion wasn't a remake, nor did it modify its story from another source. It's probably the least sequel-y sequel ever to come after another film.
The Case for Glass Onion: A Knives Out Mystery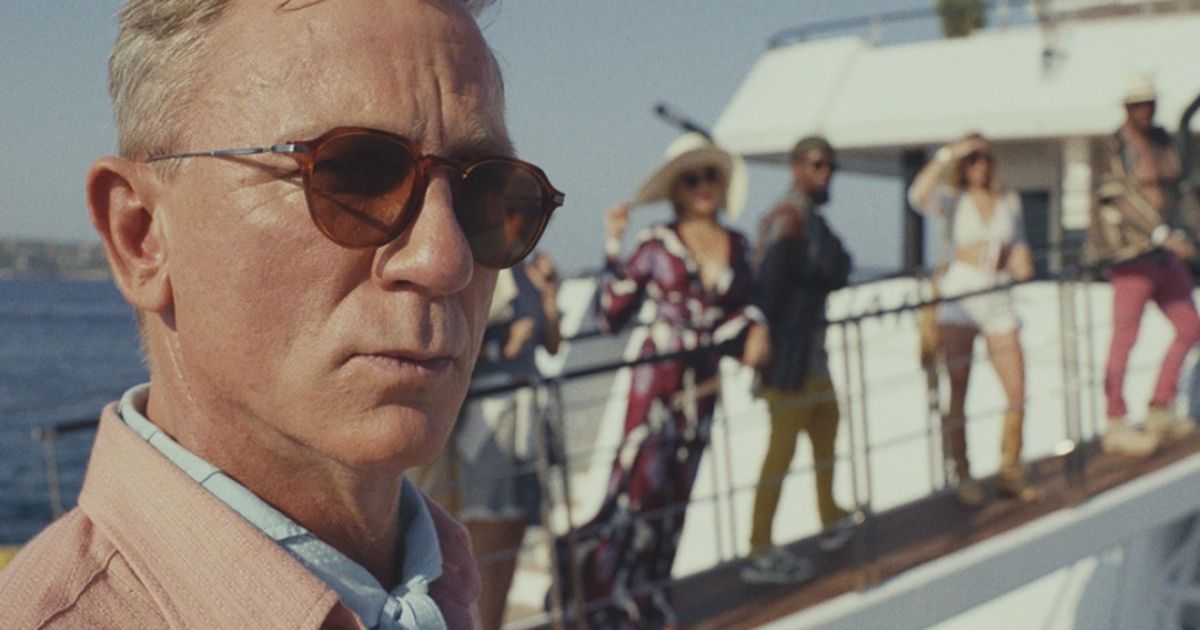 It could be argued that Glass Onion is not a sequel. Rian Johnson certainly thought so. Putting the subtitle in the film was more of a decision from the producers than the filmmaker. Johnson told the Atlantic last December how he imagines these stories:
"I've tried hard to make them self-contained. Honestly, I'm pissed off that we have A Knives Out Mystery in the title. You know? I want it to just be called Glass Onion. I get it, and I want everyone who liked the first movie to know this is next in the series, but also, the whole appeal to me is it's a new novel off the shelf every time. But there's a gravity of a thousand suns toward serialized storytelling."
That is to say; one can experience each of these movies independently of one another. There's nothing that builds from Knives Out into Glass Onion, nothing that crosses over. In fact, the only thing that relates the two stories is the character of Benoit Blanc. In Glass Onion, we begin the mystery again in a time that could take place at any moment in Blanc's life. Even when a supporting character recognizes Blanc as a famous detective (like one did in Knives Out), the case they refer to, though vague, is entirely different from the one they hinted at in the previous movie.
Related: 12 Critically Panned Movies That Won Oscars
Glass Onion doesn't share a storyline, a cast of characters, or even a single setting from the previous film in its "series." One might say that all detective stories come as easily digestible one-shot adventures. Still, Sherlock Holmes, Hercule Poirot, and even Nancy Drew all had a cast of recurring characters that stood by their sides. Benoit Blanc stands alone in his fledgling Knives Out franchise in that we've yet to see one character in a supporting role appear twice. Perhaps this will change in the future, but for now, Glass Onion seems more like its own film than one based on a movie with the same protagonist.