Ukraine Stamp Russian Warship Buy: Ukraine has issued a new stamp to commemorate the servicemen of Snake Island who were killed by a Russian cruiser. Artist Boris Groh depicts a lone soldier making an obnoxious gesture in front of a massive navy ship in this heartbreaking painting. Russia's invasion of Ukraine last month has inspired people across the world, with stories of bravery and tenacity making headlines throughout the world.
"Russian navy, yourselves" was one of the most memorable responses from a soldier on the snake island. Postal stamps are now being issued to honor the brave men and women of the armed forces. The image of a single soldier standing tall in front of an enormous naval ship making an attacking gesture has been selected for a new postage stamp by Ukrainian authorities The colors of Ukraine's national flag are also reflected in the stamp, which features a blue sky and yellow terrain. After 13 border guards stationed on a patch of land just south of Odessa refused to give up and defended their country.
The country's first deputy foreign minister, Emine Dzheppar, announced a stamp honoring the occurrence."The sketch by artist Boris Groh earned the most votes and will be published by Ukraine's official postal company." A month ago, Ukrposhta, Ukraine's national post, announced a competition in which netizens could vote for one of the 20 finalists who had brought in drawings that included the phrase that became a rallying cry for the Ukrainian military throughout the conflict. There were "not expected to be so many people wanting to participate in the competition and that it would transcend beyond Ukraine," the postal service stated.
Ukraine's valiant defense of Snake Island
For Groh's social media followers, he explained to Ukrposhta that he was inspired by Ukraine's valiant defense of Snake Island, and so he "painted a painting to improve the mood and fighting spirit of Ukrainians" and "draw attention of foreigners to Ukraine." After three days of working on it, Groh claims that it would have taken him just five hours if the news hadn't distracted him. Groh, who was born and raised in Evpatoria, Crimea, was saddened by the latest Russian strikes, which brought back painful memories.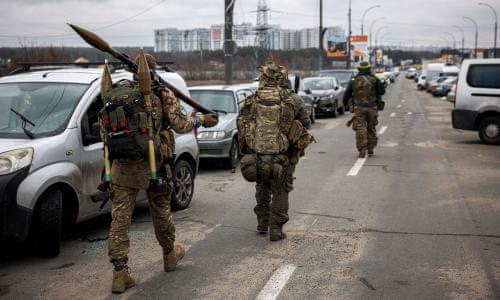 His residence was captured by the Russians in 2014, and he was forced to flee to Kyiv, then Lviv, until war broke out again. As far back as the island incident, people have been recognizing the soldiers involved. President Volodymyr Zelenskyy said earlier that he would posthumously honor every soldier who was killed on Donetsk after Kyiv lost all communication with it. It has now been alleged that some soldiers may still be alive and seized by Russian forces. Originally from Evpatoria in Crimea, the winning sketch's creator, Borys Grokh, was a lifelong painter who went on to pursue a career as an artist after finishing his studies.
Russia invaded Crimea in 2014 and forced him out of the region, so he had to leave Ukraine and come to Lviv. Russia launches another war on Ukraine in 2022. Our military is defending Snake Island in the early stages of the conflict. When Borys saw how courageously they defended themselves, he decided to make an image that would inspire Ukrainians and foreigners who follow him on social media to join the fight. It took him roughly three days to make it, and if the news wasn't getting in the way, he could have finished it in five hours.
Ukraine Stamp Russian Warship Buy
A Russian cruiser threatened a group of Ukrainian soldiers on Snake Island in February 2022, during the early days of Russia's invasion of Ukraine. According to an article by NPR: They are being hailed as heroes for their obstinate resistance to a Russian warship's demands to surrender. Zmiinyi Island, or Snake Island as it's known, lies roughly 30 miles east of the southern border of Ukraine and Romania on the Black Sea. The Ukrainian military was protecting the island. A voice on the recording may be heard saying, "This is a Russian battleship."
"In order to prevent further bloodshed and the loss of life, I respectfully request that you surrender. If you don't, expect to be blasted." The Ukrainians' reaction was short and to the point: "Russian warship." You're on your own. Various news outlets have been reporting on a new stamp portraying a Ukrainian soldier pointing his index finger at a Russian military vessel in the distance. The Ukrainian postal office recently revealed an illustration of the stamp's design and said that it would go on sale soon. To honor the valor of our soldiers during this time of conflict with Russia, a commemorative stamp was issued.
Ukraine's new postage stamp's creator
Boris Groh, a Ukrainian artist living in Lviv who works primarily in 2D mediums such as painting, watercolor, and calligraphy, developed the stamp. Generally speaking, Groh's work focuses on the darker aspects of the supernatural and how it intertwines with reality. Skeletons, zombies, and monsters are just a few of the other creations that he utilizes to depict a bad view of capitalism.
Where can I get a stamp that reads, "Russian warship, go f yourself?"
Ukrposhta, the Ukrainian postal service, will sell the special stamp when it becomes available. Ukrposhta organized a public Twitter vote to select the new stamp. On 9 March 2022, Groh's winning design was made public by the corporation. When Russia invaded Ukraine's Snake Island military post in February 2022, the design honors the Ukrainian soldiers who were there to protect it.
What's the backstory of this design, exactly?
It was the bravery of 13 Ukrainian soldiers who stood up to a Russian cruiser and defied their invasion that served as inspiration for the stamp design. It was in the Black Sea, south of the Ukrainian mainland, that they were stationed. Groh is believed to have been so moved by the soldiers' unwillingness to surrender to Russian naval forces that he submitted the image to brighten their morale. He finished it in three days. Ukrainian officials have claimed there is a possibility that the soldiers who were stationed at the military camp are still alive.
a UN draught resolution denouncing Russia for its actions in Ukraine is vetoed by Russia. It was Russia that blocked the UN Security Council's call for Russia to cease its attacks on Ukraine and promptly evacuate all its troops. It was thought that Moscow would use its veto to underscore its international isolation, but the United States and many who supported it claimed that the attempt would have the opposite effect. Even while 11 countries voted against Russia's attack on its smaller and militarily weaker neighbor, China, India, and the United Arab Emirates abstained.
As a result of the rejection of this resolution, sponsors can now call for a quick vote on a similar move the UN General Assembly, where there are not any vetoes. There was no timeframe for an Assembly vote at this time. The Security Council resolution would have condemned Russia's "aggression" against Ukraine, spearheaded by the United States and Albania. It urged Russia to promptly withdraw its soldiers and cease its use of force against Ukraine, as well as to revoke a decision to recognize two rebel enclaves in eastern Ukraine as autonomous.
Related