Trending Globally
The impressive guest list for the funeral is significant, also by those who are not on it & More Latest News Here
Prime Ministers, Presidents and Kings will travel en masse to London this weekend for the funeral of Britain's Queen Elizabeth. Some 2,000 foreign dignitaries are expected to attend Monday's funeral at Westminster Abbey, a more than 1,000-year-old Gothic church in the British capital.
The prominent people will probably not talk much about politics at the funeral, there is no opportunity for that. But the ceremony is an opportunity for the new British Prime Minister Liz Truss to profile herself internationally and to iron out some wrinkles here and there, such as with French President Emmanuel Macron, whose friendship she recently questioned.
The expected guests include other European monarchs, such as King Philippe and Queen Mathilde for our country, and the Dutch royal couple Willem-Alexander and Máxima. US President Joe Biden and first lady Jill will attend, as will German President Frank-Walter Steinmeier, Japanese Emperor Naruhito and Empress Masako, and European Commission President Ursula von der Leyen. There will also be delegations from the Commonwealth. Australian Prime Minister Anthony Albanese is taking the leaders of at least four Pacific island nations in his government jet.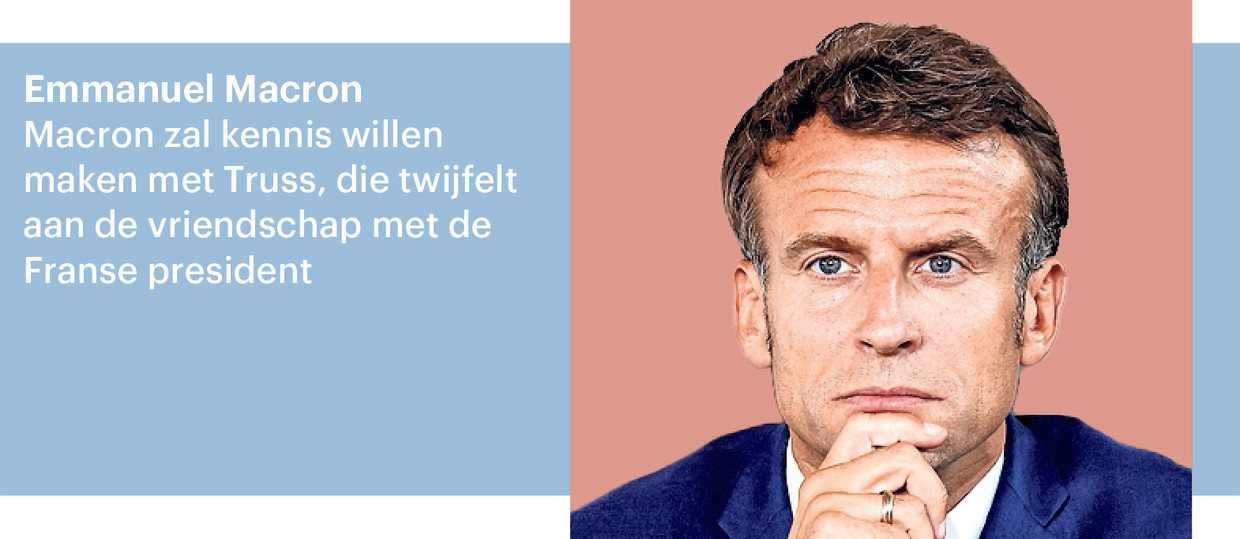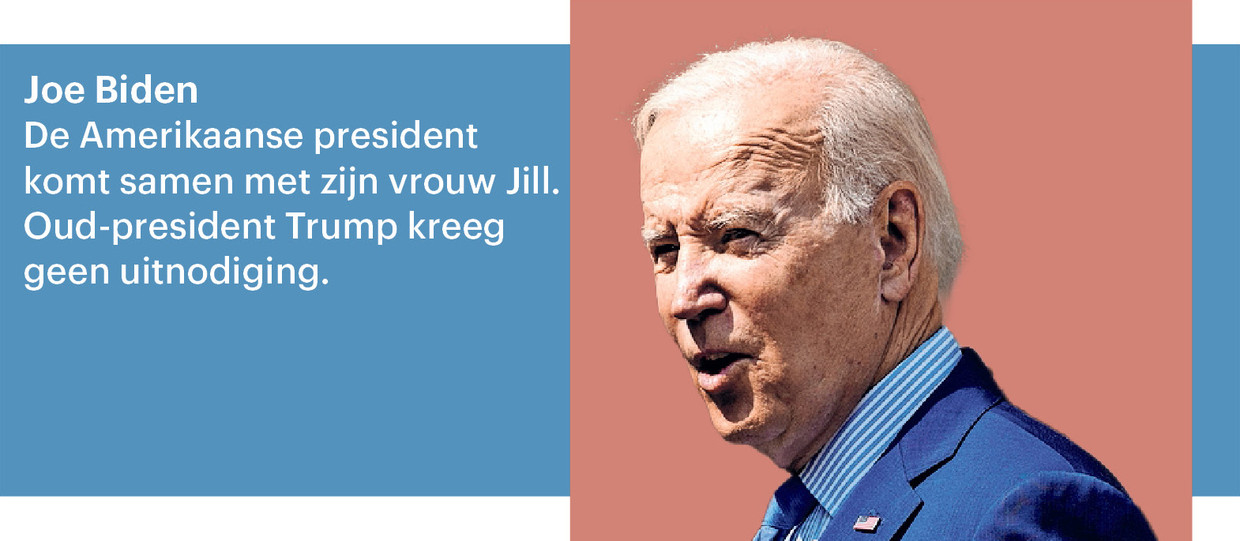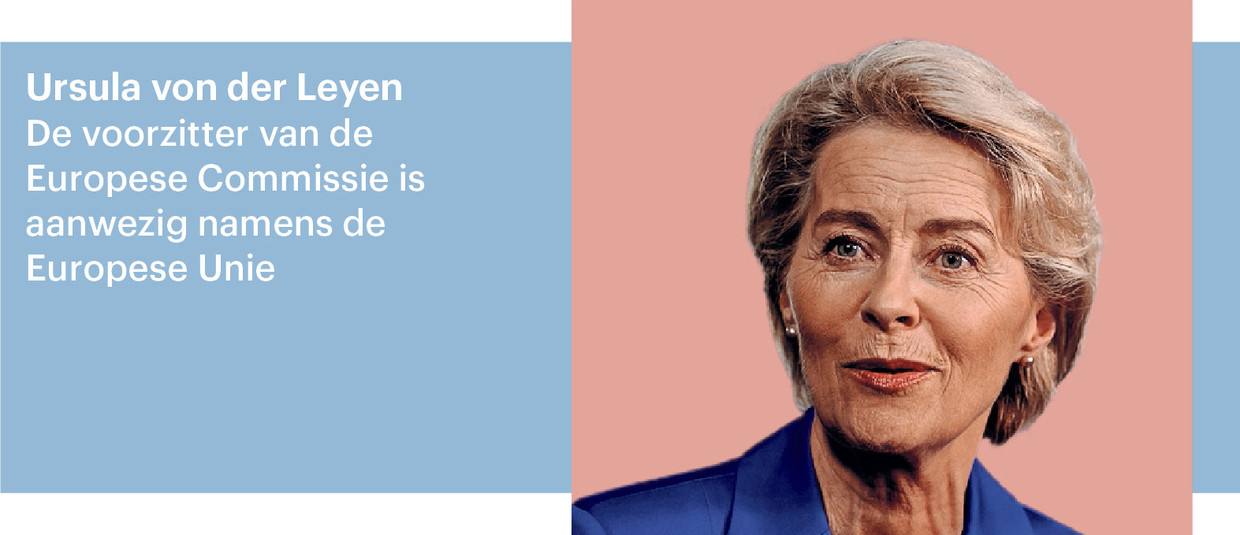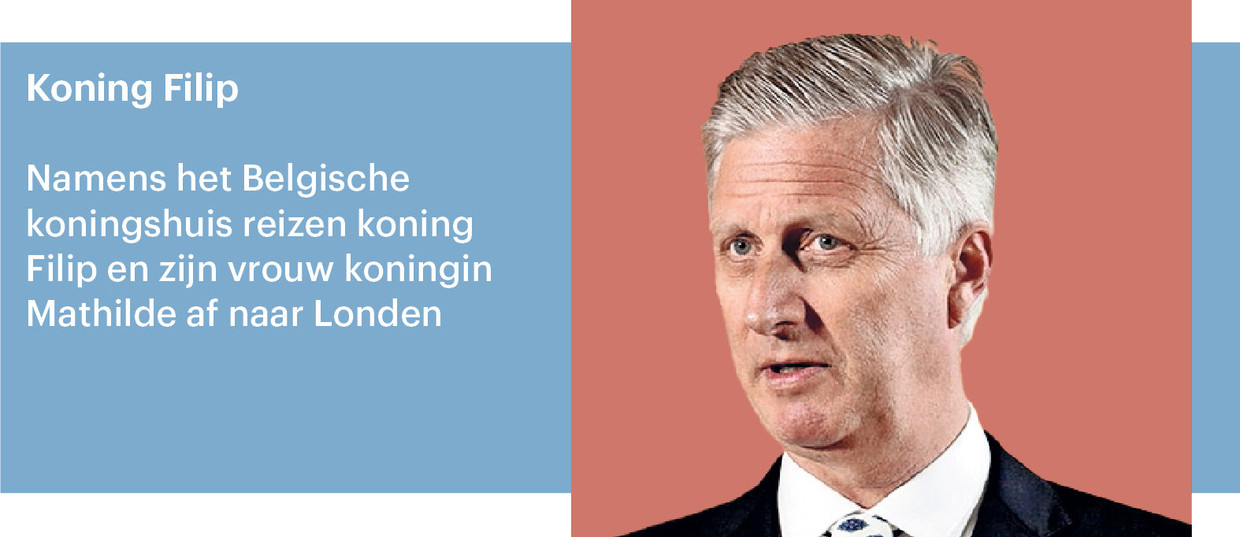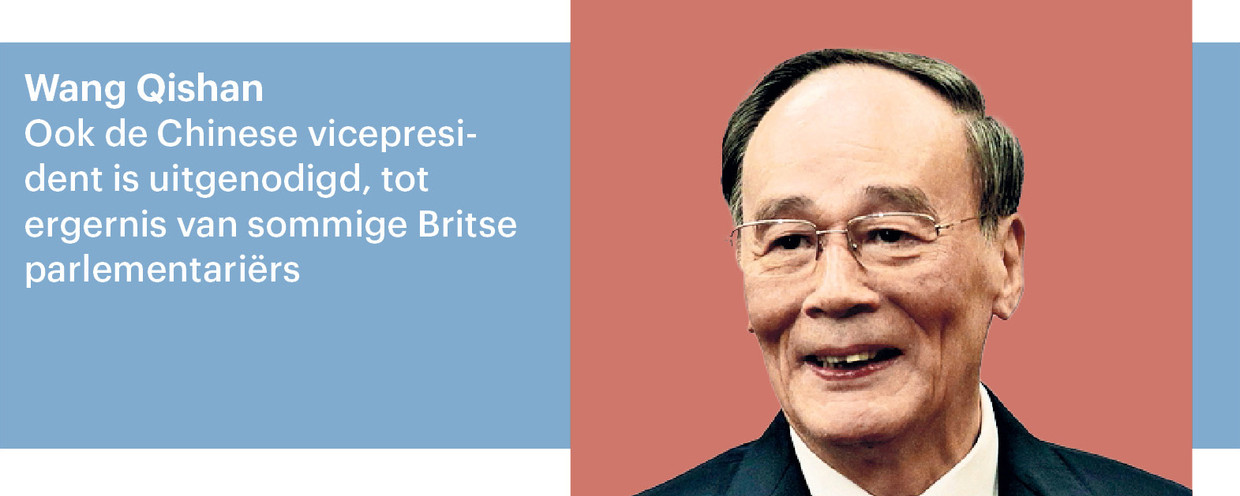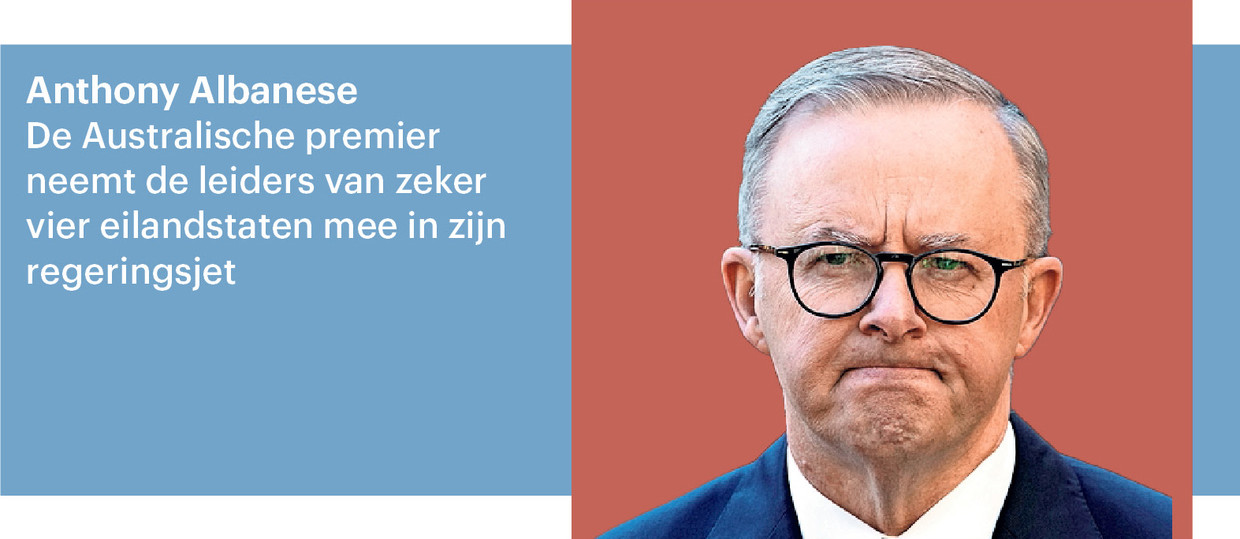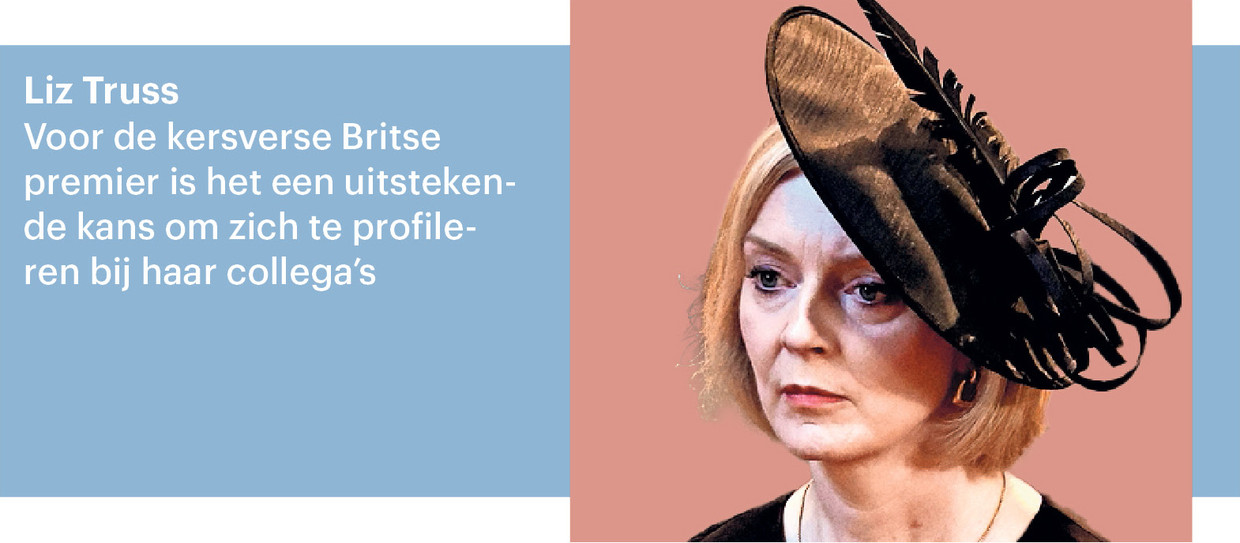 Some banned
To the chagrin of some British parliamentarians, an invitation has also been sent to the Chinese government. According to British media, Chinese Vice President Wang Qishan is likely to attend the funeral.
Russian President Vladimir Putin and his Belarusian counterpart Aleksandr Lukashenko are emphatically not invited. The reason for this is the Russian invasion at the beginning of this year in Ukraine. London and Moscow have hardly had a diplomatic relationship since that raid. Belarusian leader Lukashenko is an ally of Putin and has allowed his territory to be used by the Russians as a springboard for the invasion.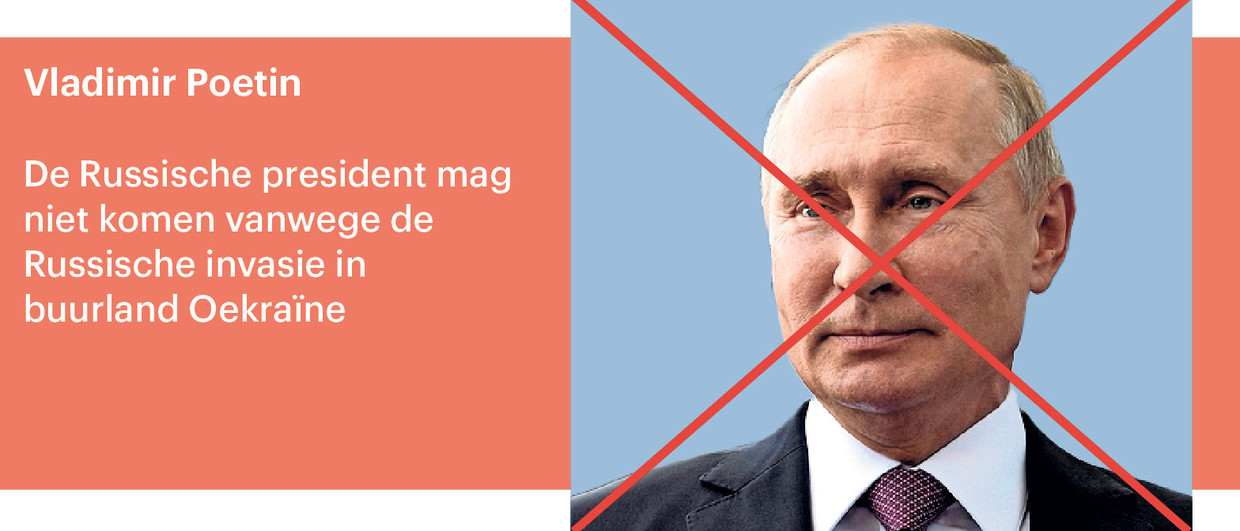 Also not invited are the leaders of Myanmar, Afghanistan, Syria and Venezuela. The British government has slashed diplomatic ties with Myanmar after an army coup there in early 2021. And the British embassy in Kabul was moved to the Gulf state of Qatar after the Taliban took power last year. The United Kingdom has no diplomatic relationship at all with Syria and Venezuela.
Lower level
Two other countries whose autocratic rulers in the West are abhorred, Nicaragua and North Korea, have only been invited at the ambassadorial level. The Iranian government, which has been subject to sanctions for years because of its nuclear programme, will also be represented at most by an ambassador.
In the meantime, some leaders have chosen to be represented by a lower official, with British permission. For example, Turkish President Recep Tayyip Erdogan delegates his foreign minister Mevlüt Çavusoglu. And the very elderly Saudi king Salman bin Abdulaziz al-Saud is also not expected to travel to London himself. He may be replaced by Saudi Crown Prince Mohammad bin Salman, the man accused by America of having critical columnist Jamal Khashoggi murdered.


Fear of terrorist attacks
To avoid traffic congestion and safety risks, the vast majority of senior guests will be taken to Westminster Abbey in groups by bus. Only a few are allowed to come with their own vehicle. For example, US President Biden will be transported in his own heavily armored limousine, nicknamed The Beast.
What makes the security operation extra complicated for the British police is that – in addition to the dignitaries – many hundreds of thousands of spectators are expected. "The crowds themselves will be a target for terrorists," former Police Commissioner Parm Sandhu told BBC radio last week. "The funeral itself is also a target."
The police have therefore urged everyone to be vigilant, rely on instinct and report suspicious matters. Thousands of extra agents are also being deployed, partly from other parts of the country, and military personnel are called in.
Armed people with binoculars have been seen on some rooftops in the government district of Westminster in recent days. According to British media, the police will meticulously inspect the area around the church. Wells will be opened, checked and sealed. There is also patrolling with sniffer dogs for explosives, and extra security cameras are installed here and there.
The internal security service MI5 also keeps a close eye on potential terrorists and commandos from the Special Air Service (SAS), an elite unit of the British army, will be ready to take action.
The impressive guest list for the funeral is significant, also by those who are not on it
& Latest News Update
I have tried to give all kinds of news to all of you latest news today 2022 through this website and you are going to like all this news very much because all the news we always give in this news is always there. It is on trending topic and whatever the latest news was
it was always our effort to reach you that you keep getting the Electricity News, Degree News, Donate News, Bitcoin News, Trading News, Real Estate News, Gaming News, Trending News, Digital Marketing, Telecom News, Beauty News, Banking News, Travel News, Health News, Cryptocurrency News, Claim News latest news and you always keep getting the information of news through us for free and also tell you people. Give that whatever information related to other types of news will be
The impressive guest list for the funeral is significant, also by those who are not on it
& More Live News
All this news that I have made and shared for you people, you will like it very much and in it we keep bringing topics for you people like every time so that you keep getting news information like trending topics and you It is our goal to be able to get
all kinds of news without going through us so that we can reach you the latest and best news for free so that you can move ahead further by getting the information of that news together with you. Later on, we will continue
to give information about more today world news update types of latest news through posts on our website so that you always keep moving forward in that news and whatever kind of information will be there, it will definitely be conveyed to you people.
The impressive guest list for the funeral is significant, also by those who are not on it
& More News Today
All this news that I have brought up to you or will be the most different and best news that you people are not going to get anywhere, along with the information Trending News, Breaking News, Health News, Science News, Sports News, Entertainment News, Technology News, Business News, World News of this made available to all of you so that you are always connected with the news, stay ahead in the matter and keep getting today news all types of news for free till today so that you can get the news by getting it. Always take two steps forward
The Article Is In Dutch🡽