Each of The Beatles was married at least twice, and their ex-wives remained a part of their lives over the years. After their divorces, though, each of these women went on to build a life outside of their famous ex-husbands. Here's what Cynthia Lennon, Maureen Starkey, Pattie Boyd, and Heather Mills did after their divorces, and where they are now.
Cynthia Lennon
John Lennon was the first of The Beatles to get married when he wed Cynthia Powell, his classmate at the Liverpool College of Art. She met Lennon in the late 1950s, when they were both enrolled in the school, and they began a relationship. They married in 1962, after Cynthia discovered she was pregnant. 
In 1968, the couple divorced after Cynthia learned about Lennon's affairs, including one with Yoko Ono. Their split was acrimonious; he accused her of cheating on him and they fought over the settlement and custody of their son, Julian.
In 1970, Cynthia married Robert Bassanini, an entrepreneur, and the couple divorced in 1973. She opened a restaurant called Oliver's Bistro after their split and, in 1976, married television engineer John Twist. After their 1982 divorce, she sold Oliver's Bistro and began a lengthy relationship with Jim Christie, a chauffeur. Though the couple did not marry, this became her longest relationship. 
Cynthia wrote two books, 1978's A Twist of Lennon and 2005's John. She auctioned off Beatles memorabilia over the years and opened a short-lived restaurant called Lennon's. She also released a song, "Those Were the Days," in 1995.
In 2002, Cynthia married nightclub owner Noel Charles, with whom she remained until his death in 2013. In 2015, Cynthia died of cancer, prompting tributes from Paul McCartney, Ringo Starr, and Ono.
Maureen Starkey
In 1965, Ringo Starr married Maureen Cox, a hair stylist and Beatles fan. They rushed into their wedding after learning Maureen was pregnant with their first child, Zak Starkey.  Her marriage to Starr fractured after The Beatles' breakup and hit a point of no return when she began an affair with George Harrison. They made their split official in 1975 after Starr began an affair with Nancy Lee Andrews. 
Starkey hadn't wanted the divorce and was devastated by the end of her marriage. She eventually began a relationship with Isaac Tigrett, one of the founders of the Hard Rock Cafe and the House of Blues. They married in 1989 and had one child together, Augusta King Tigrett. For the most part, Starkey stayed out of the public eye, but she remained close with Cynthia.
In 1994, Starkey died of leukemia. She was surrounded by her children, mother, Tigrett, and Starr when she died.
Pattie Boyd
George Harrison also got married during the craze of Beatlemania. He met Pattie Boyd on the first day of filming A Hard Day's Night and they began a relationship soon after. They married in 1966. 
As with Starr's marriage, the revelation that Harrison and Starkey were having an affair was the fatal blow to Harrison and Boyd's marriage. They divorced in 1977. 
In 1979, Boyd married Eric Clapton, one of Harrison's closest friends. The couple remained close with Harrison, though, despite the icy end to Boyd and Harrison's marriage. She struggled in her marriage because of Clapton's alcohol consumption and affairs, and the couple divorced in 1989.
In 1991, Boyd met Rod Weston, a property developer, and began a relationship. Over 20 years later, in 2015, the couple married and remain together today.
Boyd began her career as a model but left the work behind after her marriage to Harrison. She began photographing musicians and friends in the 1960s and exhibited her work starting in 2005. She also founded SHARP (Self Help Addiction Recovery Program) with Starr's second wife, Barbara Bach, in 1991. In 2007, she published her memoir Wonderful Tonight and, in 2020, released a book of photography, Pattie Boyd: My Life in Pictures.
Heather Mills
In 2002, McCartney married Heather Mills. He had previously been married to Linda McCartney, who died of cancer in 1998. The couple share one child, Beatrice McCartney. In 2006, McCartney and Mills separated acrimoniously, finalizing their divorce in 2008.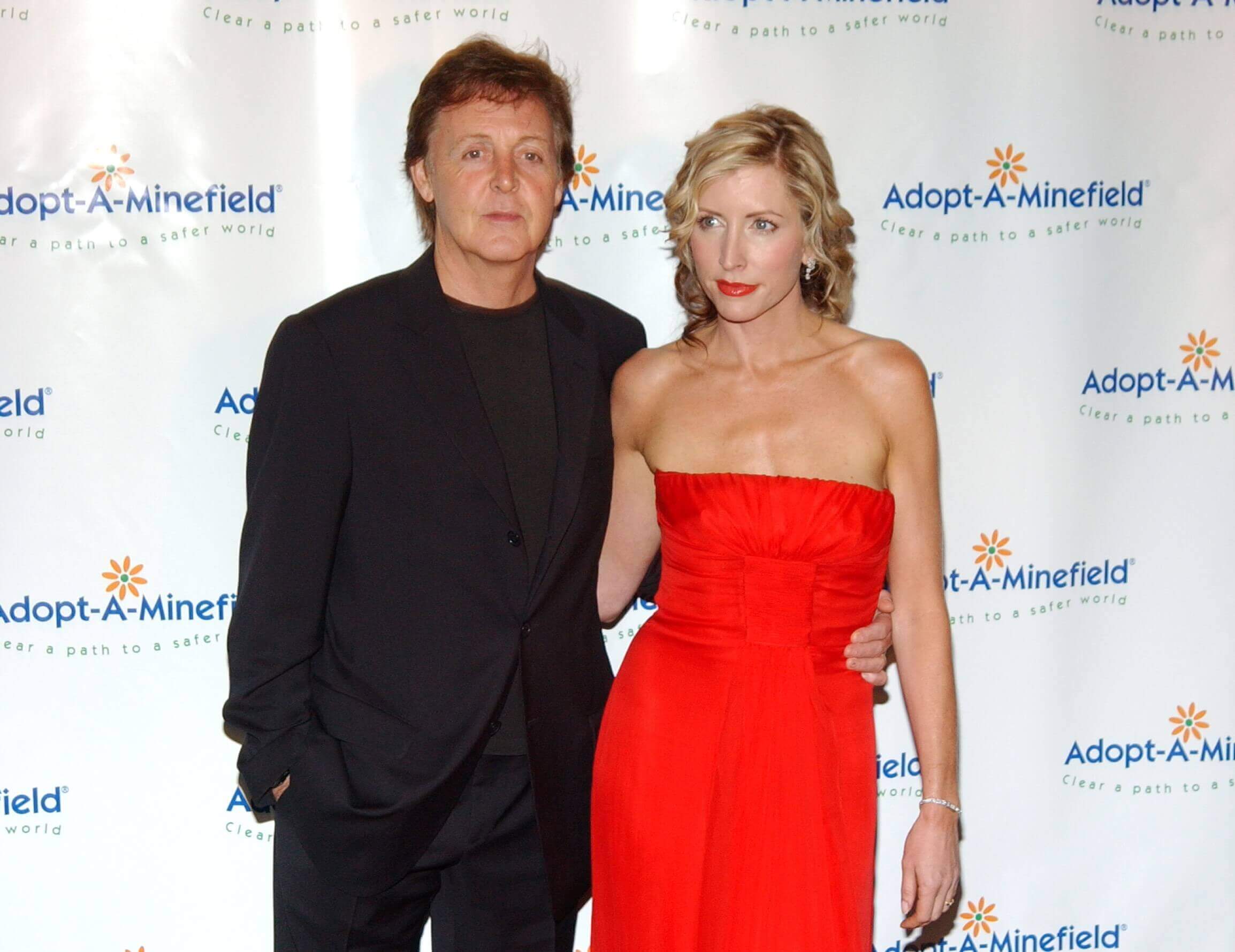 Mills dedicated herself to animal rights activism during her marriage to McCartney. She became involved with British animal rights organization Viva! and the Vegetarian and Vegan Foundation. In 2009, Mills opened a vegan restaurant and purchased a vegan food company.
Mills, who lost the lower part of her leg in an accident, began training for the 2014 Paralympics Games as a skier. While she had a shot at making it, she was banned from the competition after verbally abusing an official. She continued with the sport, though, and earned a world record in 2015 as the fastest disabled female skier of all time.
In 2021, Mills married Mike Dickman.