International
Russian Kh-59 Missiles 'Destroyed' by Odesa Defense System: City Officials
Ukrainian officials say they have successfully repelled Russian air strikes targeting cities in central and southern Ukraine.
Both the city of Odesa and Ukraine's Operational Command South (OCS) reported in social media posts on Tuesday that air defense systems destroyed missiles fired by Russian jets. While Odesa, a Black Sea port city, has been relatively unscathed by the intense fighting seen in other Ukrainian cities, recent reports have emerged that Russia has targeted it with air strikes.
OCS said in a Facebook post that two Russian Su-35 fighters launched two X-59 rockets, both of which were destroyed in the air, from the direction of the occupied Crimean peninsula.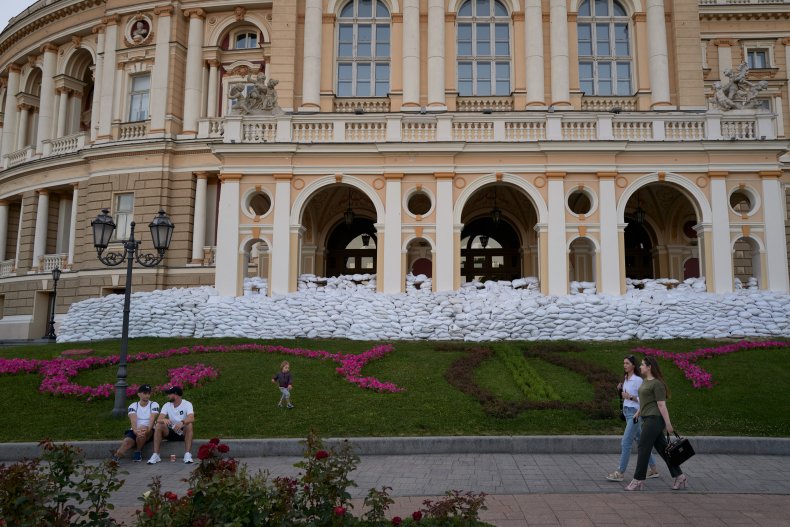 "We remind the enemy every day that they have no place in the Ukrainian sky!" the city of Odesa said in a Telegram post. "Glory to Ukraine!"
The city said on Telegram that the attack was aimed at the Odesa region. Around 1:30 p.m. local time soldiers from the Odesa anti-aircraft missile brigade near Mykolaiv, a southern city near the Black Sea, shot down the Russian air attack, the city said.
The conflict in Ukraine has turned to the country's south, where Ukrainian forces are seeking to dislodge the Russian military after they used the region as a foothold since the start of the invasion in late February.
OCS reported this week that Ukrainian forces destroyed three Iranian-built "Shahed-136" kamikaze drones during a Russian attack on Odesa.
OCS reported on Sunday that Russia had attacked Odesa with drones, one of which was destroyed by air defense forces with two striking military infrastructure.
"As a result of a large-scale fire and detonation of ammunition, the evacuation of civilians was organized," OCS said in a Facebook post, stating at the time there were no victims as the firefight was underway.
Ukraine is currently engaged in a counteroffensive in Kherson, also in the country's south, in hopes of reclaiming strategically important areas.
The Institute for the Study of War (ISW), a U.S. think tank tracking the conflict, said in its update on Monday that Ukrainian journalist Andriiy Tsapienko reported the country's forces had struck a Russian facility in the Kherson region, killing four dozen Russians and two dozen Iranian trainers. The ISW said it could not independently verify the reporting.
Elsewhere on Tuesday, Ukrainian air defenses destroyed an X-59 missile fired by another Su-35 fighter at Kryvyi Rih in the central part of the country, according to OCS. The missile was fired from the direction of Melitopol, according to OCS, a city about two hours to the southeast of the Zaporizhzhia Nuclear Power Plant.
Newsweek reached out to the Russian Defense Ministry for comment.