Movies Reviews
Photo of Tammy Slaton From March 2023 Captures Dramatic Weight Loss
Tammy Slaton was at her highest weight — 717 pounds — when season 4 of 1000-Lb. Sisters began in January 2023. However, as "Proof Is in the Pudding" revealed, Dr. Smith performed Tammy's bariatric surgery. The procedure took a bit longer than he expected because of changes to Tammy's anatomy, but after two hours, Dr. Smith was very happy with the results. See what the TLC star looks like today in a recent fan photo. 
Tammy's weight loss surgery took place in 2022 
Weight loss surgery has been the goal for the Slaton sisters since the series started in 2020. Tammy's journey has taken longer than her sister's, but many fans forget there's a difference between reality and the footage TLC airs in any given season of 1000-Lb. Sisters.
The TLC series gets filmed, edited, and packaged for television long before fans see it. This means Tammy's weight loss surgery took place in the summer of 2022, so the footage fans see on TV doesn't capture what Tammy physically looks like today. 
How much does Tammy Slaton weight in 2023? The exact answer remains unclear
While in the Ohio rehab facility, Tammy lost more than 200 pounds. Her goal weight for surgery was 550, but Tammy exceeded that, weighing 534 pounds when Dr. Smith approved her for the procedure. 
Today, Tammy's exact weight is unknown. Still, her transformation is visible in Tammy's posts on TikTok and social media. In February 2023, Tammy's friend Joshua Douglas shared photos of the reality star writing in their Instagram Stories: "Literally the hottest girl in the world. Love you Tammy." 
More recently, a 1000-Lb Sisters fan shared a photo of Tammy from March 2023. "Tammy and Amy are visiting my hometown today!" they shared on Reddit. "They look great!"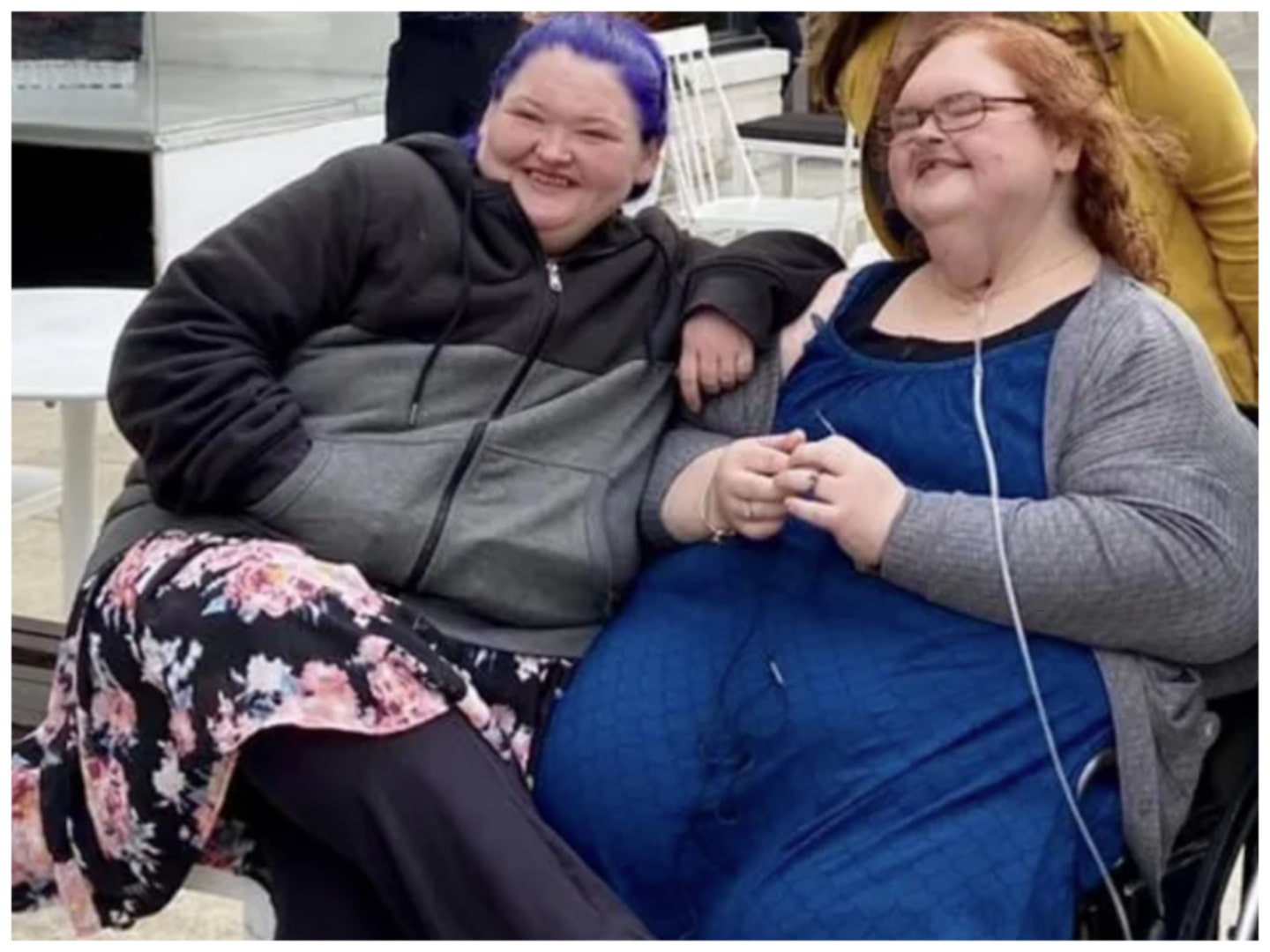 According to the original poster, they took the photo of Tammy on Mar. 2, 2023. Tammy appears in a wheelchair and is still on oxygen, but her trach tube has been removed and she's smiling from ear to ear. Some fans pointed out that the weight from Tammy's forehead is missing, too. Tammy's sister Amy Slaton-Halterman is smiling next to her in the photo. 
"Wow Tammy has lost a lot of weight," reads a comment in the thread. "I'm really excited to see Tammy's transformation," wrote another Redditor. "I'm proud of her!" Others wondered what Tammy's exact weight is in the photo. We will likely get clarity on that in the second half of 1000-Lb. Sisters Season 4, though. 
Tammy of '1000-Lb. Sisters isn't in rehab anymore 
A source close Tammy told The Sun she is out of rehab and back home in Kentucky. Given her undisclosed weight loss, Tammy can now stand for short periods, fit in the front seat of a car, and walk short distances.
Since her surgery, Tammy has reportedly lost an additional 150 pounds, totaling over 300 pounds in weight loss. This means Tammy might weigh less than 400 pounds in that fan's photo. 
See Tammy's weight loss journey continue in new episodes of 1000-Lb. Sisters, which air Tuesdays at 9 p.m. ET on TLC.