Movies Reviews
Karen Gillan Mocks Her Own Guardians of the Galaxy Vol 3 Poster Pose
The latest Guardians of the Galaxy Vol.3 poster has Karen Gillan questioning her choice of hero pose, which is really not that heroic.
After several appearances as Nebula in the Marvel Cinematic Universe, you would think that Karen Gillan would be used to striking the right kind of heroic pose. However her stance in the latest promotional poster for Guardians of the Galaxy Vol. 3 is one that even Gillan couldn't help but poke fun at and take "full responsibility" for in a new TikTok video.
Gillan has played Nebula since the original Guardians of the Galaxy back in 2014. As one of the daughters of Thanos, Nebula has gone from villain to hero and even fought herself in Avengers: Endgame, and now she is taking on another mission with the rest of the Guardians team. It is probably not a mission that requires her to twist her body to left and casually rest one hand behind her head though, which is exactly how she appears in the new Guardians poster. Speaking in her video, Gillan said:
"Okay, could anybody out there tell me what I was thinking when I decided to pose like this on an international, worldwide, poster that will remain forever more? I remember doing this pose and thinking, 'I think I look pretty cool here.' So I take full responsibility for this choice, but oh my god, what am I leaning against? What is my elbow doing? Maybe I should double down and try and make this a thing."
Related: Karen Gillan Teases the End of Nebula as She Wraps on Guardians of the Galaxy Vol.3
Will Guardians of the Galaxy Vol.3 Be Nebula's Final MCU Appearance?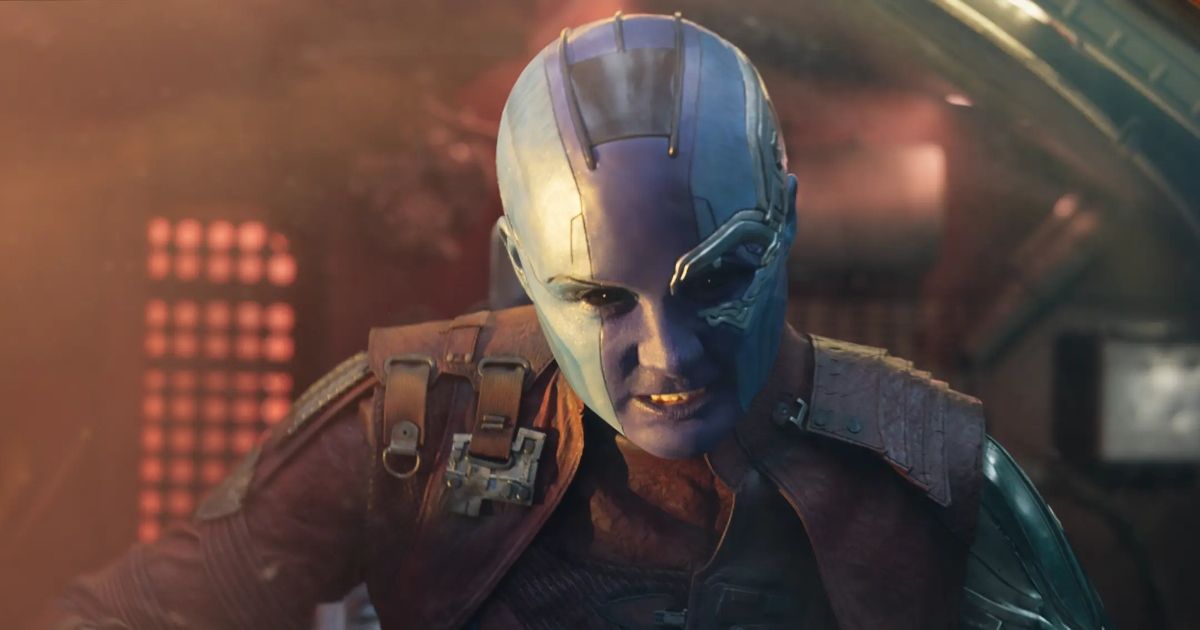 Karen Gillan wrapped filming on Guardians of the Galaxy Vol.3 in May 2022, and at the time she seemed to have almost resigned herself to this being her last time out as Nebula. Celebrating her time as the character, Gillan wrote on her Instagram account:
"And that's a wrap on Nebula in Guardians of the Galaxy Volume 3!!!!! I don't know if Nebula will return beyond this, it's possible that this is her final chapter. And if that's the case, then I just want to say thank you to @jamesgunn for giving me such an interesting, complex and fascinating character to play. I have enjoyed this exploration more than any other character I've played. That was one hell of a decade. Thanks for watching… #nebula #gotgvol3"
One thing that is clear is that James Gunn's final Guardians of the Galaxy Vol.3 is going to be a rollercoaster of action, laughs and more than a few tears. Speaking about the filming experience last year, Gillan revealed that reading the script alone was enough to have the cast crying. Speaking about her read-through with co-star Pom Klementieff, Gillan said:
"We read it in the same room together, and then looked at each other and we were in floods of tears… so emotional. You're learning more about existing characters and on a deeper level. I'm really excited at exploring Nebula, post-Thanos."
Guardians of the Galaxy Vol. 3 is released in theaters on May 5, 2023. Written and directed by James Gunn, the sequel stars Karen Gillan as Nebula, Pom Klementieff as Mantis, Chris Pratt as Star-Lord, Zoe Saldana as Gamora, Dave Bautista as Drax the Destroyer, Bradley Cooper as Rocket and Vin Diesel as Groot.