Movies Reviews
Jane Lynch Provides an Update on Her 40-Year-Old Virgin Character
Jane Lynch shares her thoughts on what Paula from Smart Tech would be up to in 2023.
After almost two decades, Jane Lynch believes that things haven't changed very much at all with the character she plays in The 40-Year-Old Virgin. Released in movie theaters in 2005, the hit comedy stars Steve Carell as the titular virgin, a 40-year-old man named Andy who works at an electronics store called Smart Tech. His boss at the store, Paula, is played by Lynch, who becomes one of the first people to learn about Andy's secret, and intrigued by being his first, she personally offers to become his "f*** buddy" in a very memorable scene.
Paula didn't succeed in her attempts to hook up with Andy, but Lynch doesn't think that changed things too much for the character. In a new chat with ComicBook.com, Lynch was asked about what Paula might be up to these days and if she's perhaps still working at Smart Tech. Lynch says she most definitely is, going on to theorize that Paula is also employing the same tactics she used on Carell's character in The 40-Year-Old Virgin. As Lynch puts it:
"Oh absolutely [she still works at Smart Tech]. And in the exact same outfit, frozen in time, and the co-workers she's the manager of just keep coming and going. And she does the same thing, which is taking the shyest one and sleeps with them, and then torments and terrorizes them. And she's still into [singer] Michael McDonald, but who wouldn't be?"
Related: The Weakest Link Returns to NBC with New Host Jane Lynch
Jane Lynch Was Part of a Stellar Cast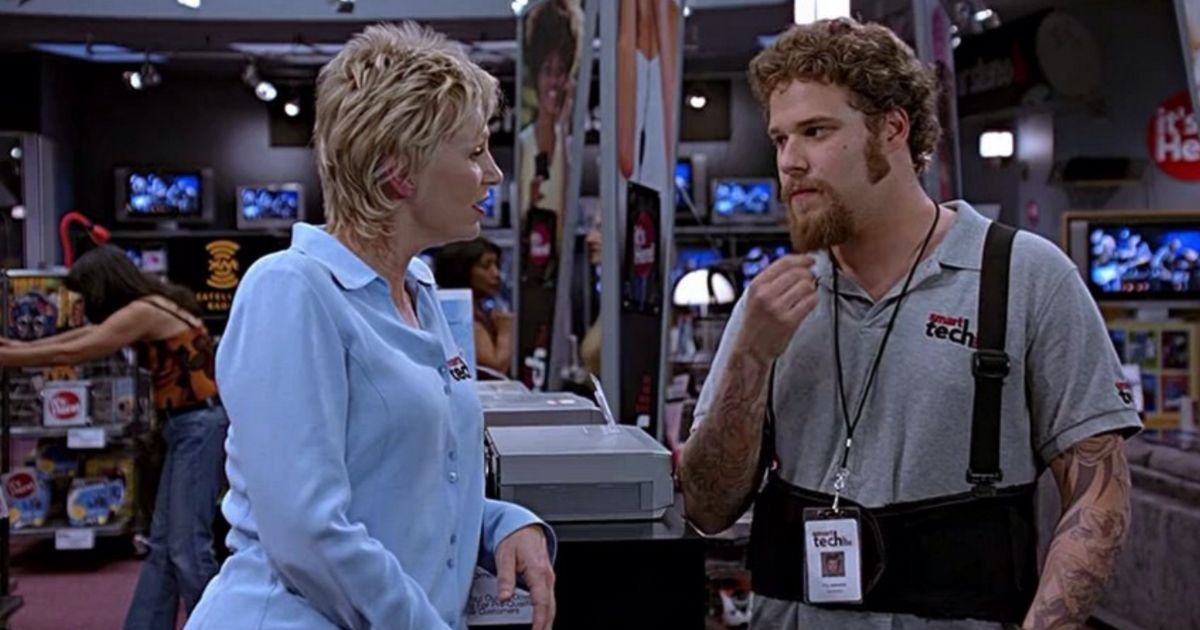 In addition to Carell and Lynch, The 40-Year-Old Virgin features several other notable names in its ensemble cast. That includes Paul Rudd, Catherine Keener, Romany Malco, Seth Rogeen, Elizabeth Banks, Leslie Mann, Kat Dennings, Mindy Kaling, Cedric Yarbrough, David Koechner, Jonah Hill, Kevin Hart, and Mo Collins. Judd Apatow directed the film and co-wrote the screenplay with Carell.
The 40-Year-Old Virgin features many memorable scenes as well, and it's hard to forget those moments with Carell getting his chest hair waxed. Paul Rudd just recently called the filming of that scene in a GQ interview, noting how clear it was that his co-star was going through immense pain but bearing through it to be funny. As Rudd recalled:
"Like you could tell it was painful. We set up like 5 cameras because once you did it you weren't going to be able to go back and do it again. Steve is hilarious. He knew how to scream and make it funny. You're coming up with jokes on the fly too. I think just the pattern in which he was waxed, he did look like a pumpkin. So then, it's like, 'You look like a man-o'-lantern.'"
If you want to revisit The 40-Year-Old Virgin, you can currently find the comedy movie streaming at Hulu.