Charlie Day's new movie Fool's Paradise just dropped its first trailer, and it is everything we wanted and more from the star of It's Always Sunny in Philadelphia. The movie's cast is loaded front to back with A-list celebrities, and the story is a glorious misadventure that takes a comedy of errors to the next level. Of course, we would expect nothing less from Mr. Day. His style of humor in Always Sunny is very physical, and in Fool's Paradise, his character doesn't say a word. What we get from the Fool's Paradise trailer must only be a drop of water in an ocean of laughs.
Charlie Day writes, directs, and stars in this movie that's been in production since 2018. Many feared the project would be lost to the pandemic, stuck in development hell. But the ice age that hit Hollywood allowed Day to rethink his film and get some advice from visionary auteur Guillermo Del Toro. In 2021 Day had written an extra 27 pages of screenplay, ordered a week of reshoots, and changed the film's title. Perhaps most notably, it stars the late Ray Liotta in one of his final roles. Fool's Paradise stands to be an incredible, layered comedy with a million reasons to go see it. Here's our breakdown of the trailer.
Charlie Day Goes Quiet
The Fool's Paradise trailer opens on its premise. Charlie Day plays an unidentified patient recently released from a mental hospital. The doctor approaches his patient to explain that he isn't mute or deaf but has lost the ability to speak and cannot cogently understand the world around him. He elaborates that with the right amount of care, they could rehabilitate him to a point where he could enter society again. Then he says, "But the state's not gonna pay for any of that, so we are gonna put his ass on the first bus downtown."
Then Day is thrown off a bus wandering like a man in a dream through the decrepit city streets. This is when Ray Liotta pulls up in a brand-new Porsche and orders him to get in. Liotta plays a disgruntled movie producer in a fight with a method actor who refuses to leave his trailer. That big actor just happens to be Charlie Day. Liotta plans to substitute this mentally ill person for the narcissistic celebrity in order to finish filming. And so, he does. The released patient is thrown out of windows, spit on, and hit with a chair, all the while looking like he isn't quite sure why it's all happening.
Related: These Are Charlie Day's Best Performances, Ranked
After shooting, Liotta calls for a "Latte. Pronto!" Enter Ken Jeong, who mistakes the order for the star's name, and that's the pebble that leads to the avalanche of fame thrust upon Day's character. He's instantly embroiled in a series of interviews, meetings, and talk shows, and this whole time Day hasn't spoken a word. Instead, this man has gone through these events with a slightly bewildered look on his face. He mimics people's hand movements as he struggles to comprehend the world around him. All the while, a series of people have propped him up as a means of using his fame for their profit. But, as the trailer says, that's just show business.
Show Business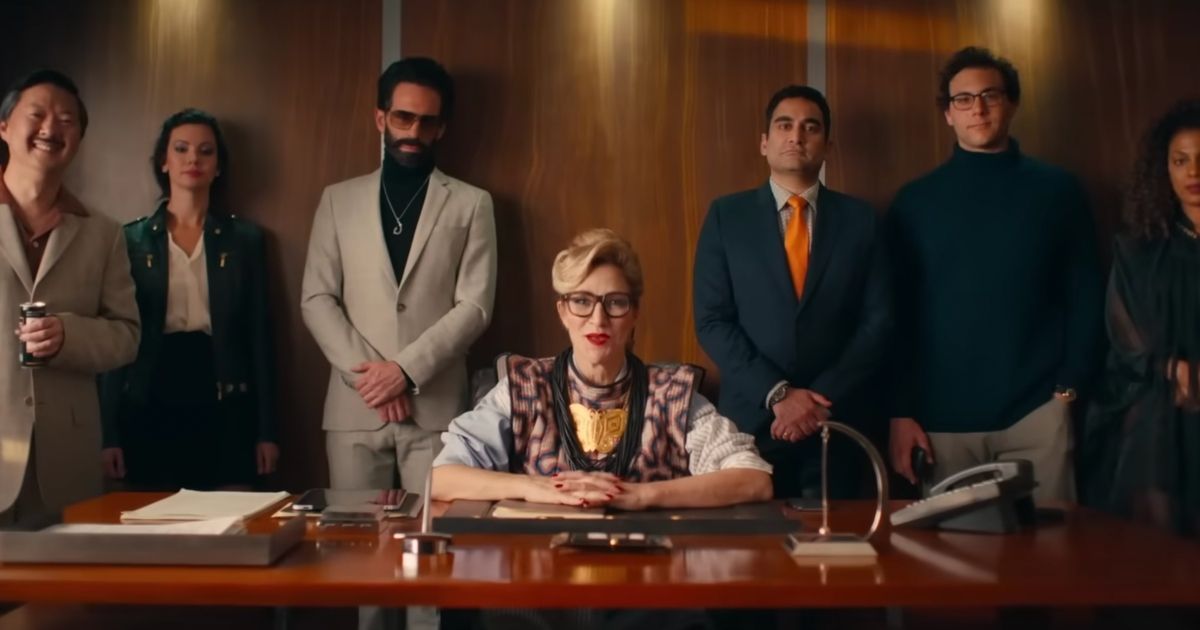 The trailer gives us a look at just how many stars are going to be shining in Fool's Paradise. The patient-protagonist is given a whole team to help fabricate his Hollywood career. In it is Day's friend and co-star Glenn Howerton, who plays Dennis on It's Always Sunny in Philadelphia, but in Fool's Paradise, he's Day's manager. Ken Jeong is his publicist. Katherine McNamara is his personal assistant. And Edie Falco is his agent. The would-be actor continues to accidentally impersonate this movie star, fooling everyone. Adrien Brody plays his drunken co-star. Common stars as an unhoused action hero. Jason Sudeikis is an unpredictable director. And John Malkovich is a power-mad mogul with too much money. The stars are bursting at the seams of this movie. Kate Beckinsale even makes an appearance when Day's life gets so out of control he ends up marrying his leading lady. Also, Jason Bateman is a camera guy.
Related: Best Ray Liotta Movies, Ranked
But every great story of Icarus has its moment when the protagonist flies too close to the sun. The trailer hints at a point where things don't go so well, and fame, being the fickle creature it is, turns on Day's character. Ken Jeong becomes overwhelmed with grief that his Golden Goose isn't worth anything. And we journey down another rabbit hole of desperation and madness as we find out that none of this was accidental. Apparently, someone has been pulling the strings this entire time. The plot is not as simple as it seems, as a story that's already insanely chaotic gets taken to the next level. We'll find out just where it goes this Summer. Fool's Paradise comes out on May 12.