Movies Reviews
'Firefly Lane' Questions, Answered: Does Kate Die? Will There Be a Season 3?
How did it all end for Tully and Kate? The final seven episodes of Netflix's Firefly Lane are now streaming, bringing to a conclusion the emotional, decade-spanning story of the two best friends. From the outcome of Kate's battle with breast cancer to Tully's romance with Danny, here are the answers to the biggest questions we had heading into Firefly Lane Season 2. 
[Warning: This article contains spoilers for Firefly Lane Season 2 Part 2.] 
Does Kate die in 'Firefly Lane'? 
We'll get the saddest question out of the way first. Yes, Sarah Chalke's Kate does die in the final episode of Firefly Lane, titled "This Must Be the Place." The mom and aspiring author learned she had stage IV inflammatory breast cancer in the show's mid-season finale, "Hart-Shaped Box." Despite early encouraging signs, treatment was ultimately unsuccessful. 
Kate's death was devastating for her husband Johnny (Ben Lawson), daughter Marah (Yael Yurman), and best friend Tully (Katherine Heigl). But she left the world on her own terms. She repaired her fractured friendship with Tully, remarried her ex-husband Johnny, and, in the last weeks of her life, completed her book about her life. She arranged for Johnny to give the manuscript to Tully after her death. 
Who did Marah marry?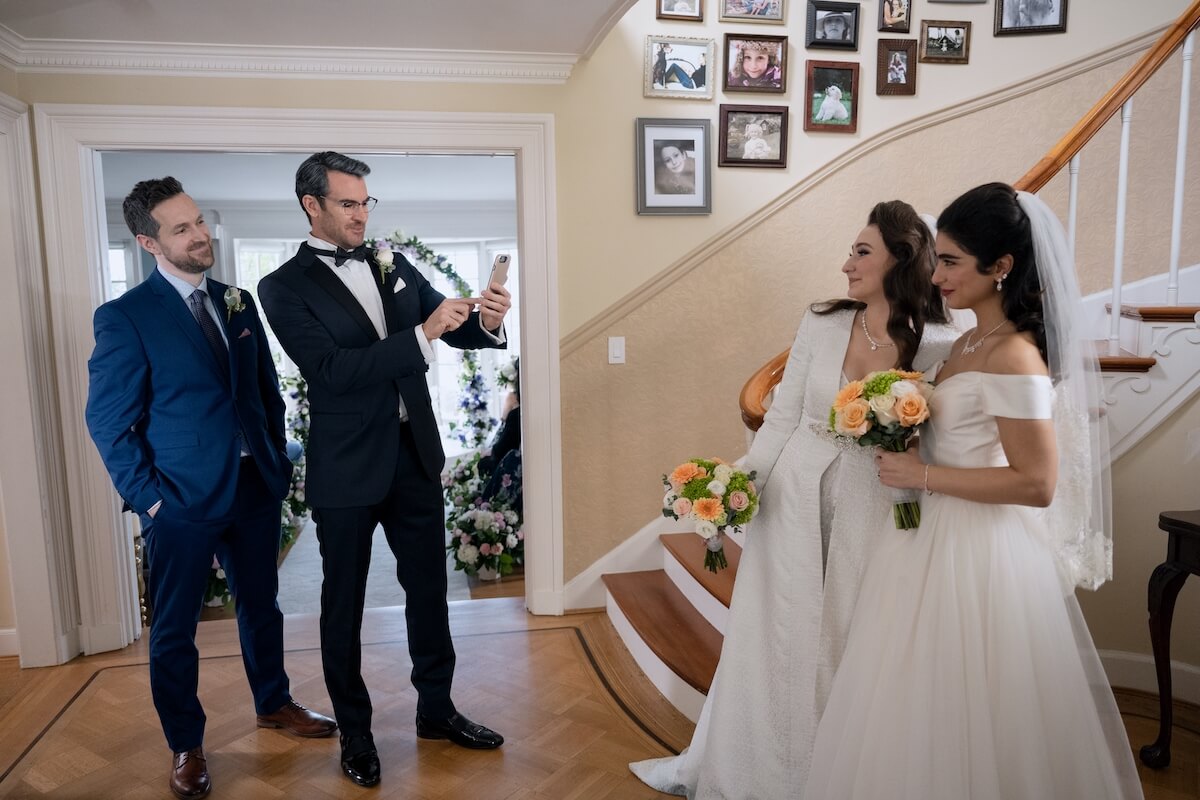 Teasers for the last episodes of Firefly Lane included glimpses of a wedding taking place in Kate and Johnny's gorgeous waterfront home. But who was the bride? One clip featured Tully fixing her makeup and telling someone that they couldn't start without her, raising the possibility that she ended up marrying Johnny after Kate's death. Or perhaps Tully was getting married, but to someone else. Or, it could have been Kate's second wedding to Johnny. 
While Kate and Johnny did remarry in Firefly Lane Season 2 Part 2, that wasn't the wedding highlighted in the teasers. Instead, it was Marah's big day. As revealed in the finale, the scene was a flash-forward to 2016 – 10 years after Kate's death. As Marah's godmother, Tully was there to support Marah (who is now a lawyer) as she said "I do" to her doctor girlfriend. Although we see Tully having a conversation with Kate about seeing Marah grown up, that was just in Tully's imagination. 
Did Tully end up married to Danny?
Though they were best friends, Kate and Tully had very different personalities and priorities in life. While Kate was eager to settle down, get married, and start a family, Tully focused on her career and maintaining her independence. An unexpected pregnancy in season 1 prompted her to get married, but when she had a miscarriage, the relationship fell apart. 
In the 1980s, Tully also had a whirlwind romance with a colleague, sportscaster Danny Diaz (Ignacio Serricchio). But that relationship ended when he left Seattle. However, in the 2000s, he returns to Washington – and moves in next door to Tully. Unfortunately, he's also in a serious relationship with another woman. But he and Tully can't deny their attraction to each other. When he breaks up with his fiancé, he and Tully get together.
So, do Danny and Tully end up getting married? While we don't see their wedding, it seems they do. In the scene where she's prepping for Marah's wedding, a large diamond ring can be seen on Tully's left hand, suggesting she's either engaged or married. And while we don't see Danny at Marah's wedding, his voice can be heard urging Tully to come downstairs so that they can start the ceremony. All signs point to Tully and Danny either being happily married or planning their own wedding. 
Will there be a 'Firefly Lane' Season 3?
Sadly, no, there will not be a Firefly Lane Season 3 on Netflix. The two-part, 16-episode second season is the last for the show. However, if you just can't let go of the show's characters, we have a bit of good news. Firefly Lane is based on a book by Kristin Hannah. (The Netflix series makes some changes to the book's story, but the spirit remains the same). And Hannah has written a sequel, Fly Away, which continues Tully's story.  
Fly Away follows Tully as she tries to move forward following Kate's death. Meanwhile, 16-year-old Marah is struggling to deal with her grief after losing her mother. And Tully's troubled mother Dorothy (aka Cloud) has come back into her daughter's life, desperate to right past wrongs and prove she can be a good mother. 
So far, there's no sign that Netflix plans to adapt Fly Away and continue the story of Tully, Marah, and Cloud. But Firefly Lane viewers can turn to the book to get an idea of what happens next to the three women. 
For more on the entertainment world and exclusive interviews, subscribe to Showbiz Cheat Sheet's YouTube channel.