Apple TV+'s 'Extrapolations' is a science-fiction anthology drama series created by Scott Z. Burns ('Contagion'). Each episode of the show gives viewers a look at earth's future as environmental issues ravage the planet. The second episode, titled '2046: Whale Fall,' stars Sienna Miller and Meryl Streep with a special appearance by Kit Harrington. The episode follows Miller's Rebecca "Becca" Shearer as she tries to save the last humpback whale on earth.
However, Becca is soon forced to confront the harsh reality of humanity's attempts to save animals amidst global warming and its negative effect on the creatures. Moreover, Becca forms a personal bond with the whale, further complicating matters. If you are wondering whether Becca succeeds in saving the whale, here is everything you need to know about the ending of 'Extrapolations' episode 2! SPOILERS AHEAD!
Extrapolations Episode 2 Recap
The second episode, titled '2046: Whale Fall,' focuses on Rebecca "Becca" Shearer (Sienna Miller), whom we met in the first episode. In the mostly standalone episode that takes place nearly a decade after the first episode, we get a look at Becca's everyday life and her work. Becca lives with her nine-year-old son, Ezra, who was born with a heart issue because of environmental issues. As a result, Ezra has a weak heart and must take care of his health. His condition is known as the "Summer" heart, and people with this condition have a high risk of cardiac arrests when overexposed to sunlight.
Becca is raising Ezra alone after her husband Omar died in a storm, and her mother passed away. However, Becca's mother, Eva Shearer (Meryl Streep), made video recordings of herself so that her grandson could spend time with her. After dropping Ezra at his school, Becca works at one of the Menagerie2100 facilities, housing the last living humpback whale. She converses with the whale using sound waves. However, she gives the whale's voice a human avatar. As a result, the whale speaks with Becca in her mother's voice and is referred to as Eva.
At school, Ezra argues with his peer about his summer heart. Becca speaks with the humpback whale, and they exchange stories about their children. However, the whale laments the loss of its offspring. After school, Ezra falls unconscious because of his argument raising his pulse. Becca comforts Ezra and gives him hope for a better future, one where he will have a healthy heart. Meanwhile, Menagerie2100 is having difficulty sourcing food for the whale because people are suffering from hunger in Asia. As a result, feeding a giant whale would result in a PR nightmare.
Becca receives some hope of saving the whale after the latter reveals she has been talking with a male of her species. The whale is excited to meet another one of her kind and wants to be a mother again. Meanwhile, we learn about Becca's relationship with her mother, Eva, who fell sick from liver cancer. However, since her treatment seemed to work, Becca focused on her work and tried to save the whale. Nonetheless, Becca soon learned that Eva's condition was worsening, and she lied to her. As a result, Becca and Eva argue shortly before Eva passes away. At work, Becca discusses the whale's situation with her boss, Christina, and is introduced to Hendricks, who is also working on saving the whale.
Meanwhile, we learn that Nick Bilton (Kit Harington) is interested in working with Menagerie2100, making their whale project extremely important. However, Becca is shocked when Hendricks reveals that the male whale does not exist. He has been using a recording of a male humpback to converse with the female whale. As a result, he gives her false hope of mating and finding a partner. Moreover, Hendricks learned that Becca is using a human avatar for the whale, which is against company protocols. Thus, Becca must decide whether to give up on her morals or tell the truth to the whale.
Extrapolations Episode 2 Ending: Does Becca Tell the Truth to the Whale?
In the episode, Becca develops a somewhat emotional relationship with the whale by giving her Eva's voice. Moreover, Becca struggles with her relationship with her mother after Eva's demise. After rewatching her final conversation with Eva, Becca is deeply moved by the reasons behind her mother's lies. The conversation motivates Becca to tell the whale the truth about her existence and the state of her species. Meanwhile, Hendricks argues that it is essential for the company to know that the whale is willing to mate as the species' recreation will depend upon it. Nontheless, Becca does not feel lying to the whale is ethical and wants to tell the truth.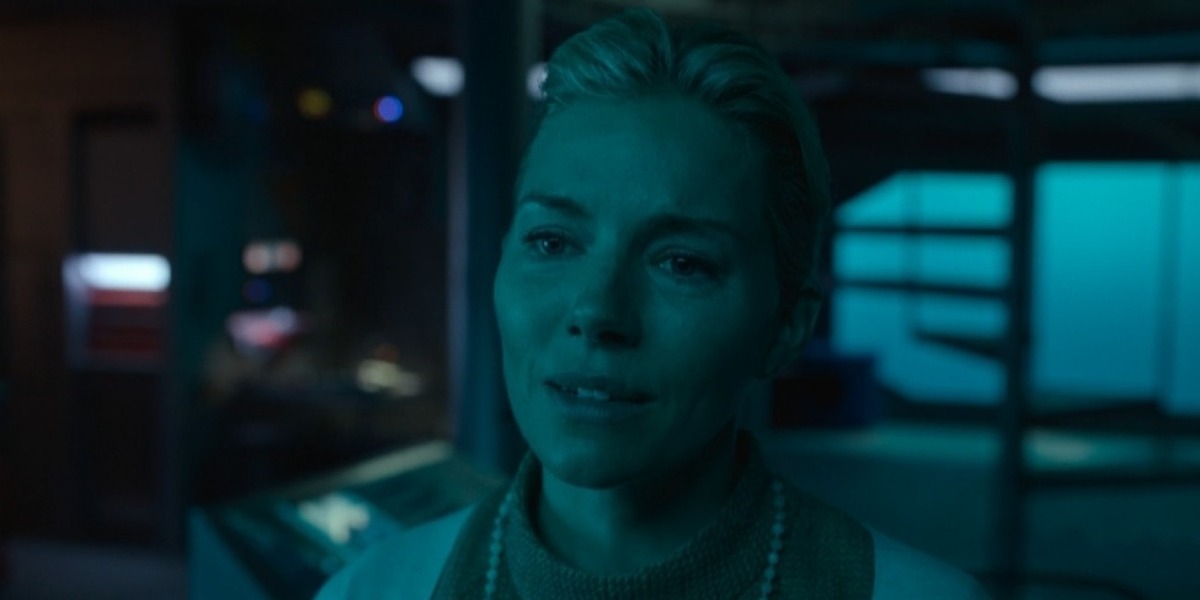 Ultimately, Becca speaks her heart out to the whale and tells her she is the last of her species. The whale is confused at first, but Becca uses her experiences with her mother to explain the situation to the whale. As a result, Becca urges the whale to leave the facility and try to survive on her own. Later, Becca is questioned by Christina and Hendricks after the whale leaves the facility. However, Becca feigns ignorance and hides the fact that she told the whale about the company's lies and set her free.
Christina chalks up the situation to the emotional toll of Becca losing her loved ones and offers her a new assignment in Alaska. The episode ends with Becca and Ezra heading to Alaska. However, before going to their destination, the mother and son stop in the ocean, hoping to have one final conversation with the whale. Although the whale shows up, Becca encourages her to be weary of humans in the future. However, the whale implies she already wanted her kind of humans, hinting that at least one more humpback whale is alive and there is still hope for the species.
Read More: Extrapolations Episode 1 Recap and Ending, Explained