Movies Reviews
Exclusive: Young Star Violet McGraw on the Release of Mega Gory M3GAN UNRAT3D
Dim the lights and grab some snacks. Or a pillow to scream into. We haven't seen the last of M3GAN in 2023. The Blu-ray and DVD release of the unforgettable horror flick—playfully dubbed M3GAN UNRAT3D VERSION—arrives March 21. The unrated cut landed on Peacock back in February.
The hit Universal film starring Allison Williams (Get Out), Violet McGraw, and Ronny Chieng generated box office gold and great reviews to boot. MovieWeb said M3GAN "will make you shriek and laugh." That it does.
In case you missed the intense, gory, animatronic, hip-swishing murdering dolly film that's giving Chucky a reason to sharpen some weapons—M3GAN vs. Chucky, anyone?—the plot finds beleaguered toy-company roboticist Gemma (Williams) gifting her AI creation, M3GAN, to her niece Cady (McGraw), who's grieving the loss of her parents. Life-sized MEGAN is equipped to listen, watch, and learn. Sounds innocent enough but apparently, like humans, AI have mood swings, too. Gemma's decision to pair her M3GAN prototype with Cady turns disastrous.
Fans of the film have appreciated the mix of humor, thrills, and gore in M3GAN. So, what can we expect in M3GAN UNRAT3D, and how was it for 11-year-old Violet McGraw playing opposite that creepy doll?
The Big Differences in M3GAN UNRAT3D
M3GAN has a potty mouth. That's just one of the major changes viewers will find in M3GAN UNRAT3D. Let's just say she drops more than the B word, but most of that arrives at the tail end of the new version. There's more. Gemma drops some foul words, too. Overall, the deaths are gorier. Remember bully Brandon (Jack Cassidy), the guy that gets his ear ripped off? In M3GAN UNRAT3D, it's stretched and severed and, well, bloody and gory.
Elsewhere in UNRAT3D, M3GAN-ites will sit up when they see what happens to David (Chieng), Gemma's boss in the film. The extended version reveals a more brutal showdown between the two. Paper cutter-blade-wielding M3GAN is shown plunging that blade into David while Kurt looks on in horror in the elevator. The new version sees more of the blade emerging from David's chest. In the theatrical version, it's implied that M3GAN will set up Kurt for a murder/suicide, but we never see the dude die. In UNRAT3D, it's pretty much a bloodbath.
Related: Exclusive: John Wick 4 Stars on Playing Keanu Reeves' Friend and Foe
The new DVD/Blu-ray offering also finds filmmakers and cast breaking down how the M3GAN universe was created—from the initial idea all the way through the production with director Gerard Johnstone. Fans can also see how M3GAN was brought to life via animatronics, puppets, and young New Zealand actor Amie Donald—she was instrumental in perfecting the movements that contributed to the doll's viral dance moment. Meanwhile, Jenna Davis (Raven's Home) voiced M3GAN. And… ever wonder about M3GAN's amazing stunts? A behind-the-scenes look at how the stunts and gory deaths were pulled off is also part of the package here.
Violet McGraw Unpacks Our Love of M3GAN
When asked if she has seen the UNRAT3D version yet, McGraw said, "No, I actually have not seen it yet, because we've been waiting for a good night to do it. I really want to see it. I've seen a few clips of it, though."
Would her parents tell her to cover her eyes during the film's extra gory scenes? "No," McGraw laughed, "because I was in it, and I know how it all works. Actually, I'm happy my parents don't say that because I know a lot of fans actually like seeing all that bloody, gory stuff. But I don't know… some of it might gross me out. I'm really excited to see what happens."
Written by Akela Cooper, M3GAN surpassed expectations. The film has generated nearly $200 million at the box office and a sequel is already in the works. Although, we'll have to wait until 2025 for that. Produced by masters of horror James Wan (Saw, Insidious, The Conjuring, Anabelle) and Blumhouse's Jason Blum (the Halloween franchise, The Invisible Man, The Black Phone), M3GAN is now a pop culture hit. One of the most refreshing romps to emerge from 2023, in fact.
Related: Exclusive: Daniel Stisen Is Ripped and Raring to Go in The Siege
Fact and fiction can blur during film shoots. Most folks might have been freaked out working alongside that doll, but McGraw said she was, "never really freaked out because there's a lot of people on set. Obviously, I knew I wasn't alone. I've never been scared being on sets because it's just so different. The music isn't added, and the special effects aren't there yet. So, it's completely different than when you see it on screen."
That changed when she saw finally saw the theatrical version. "The looks M3GAN gives people can be really heart-racing," McGraw said. "It's like… what's she going to do to that person? They had some pretty scary jump scares in the film that I had no idea about. I jumped out of my seat because I was not prepared for those."
She added that she bonded with Amie Donald, the young actor inside the actual doll. "We're like best friends in real life. We keep in contact to this day. Amie helped with so many scenes and since [my character] Cady and M3GAN become super close, that really helped us bond and create a friendship."
Thoughts on the Sequel and More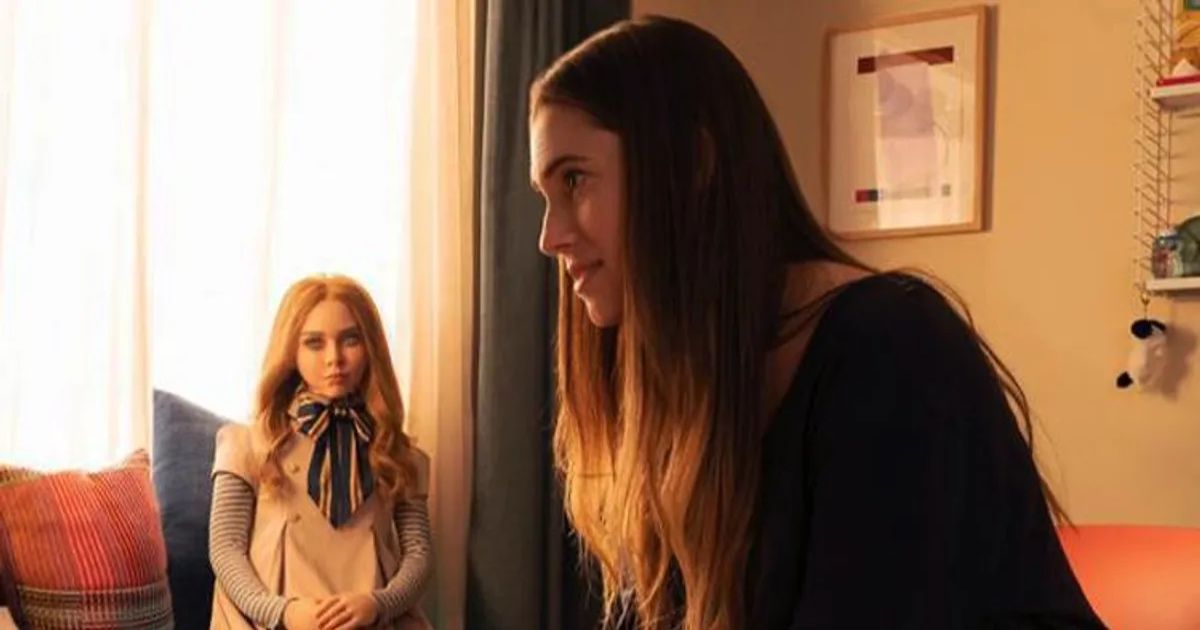 One must ask: Would McGraw ever consider having a kind of M3GAN around in real life? And if so, would she ever get attached to it? "You know, I would want M3GAN in real life," she admitted, "but I don't think I would ever let her, like, replace my sister or my brothers or any of my family members. I mean, having her in real life would be fun. I don't know if I would get too attached to her or not."
So many things stood out for McGraw during the film's shoot, but mostly, she credits her other "costar," Allison Williams for effectively capturing the tension in M3GAN. "Working with Allison was amazing. She's so sweet and so funny, and she's like I am sometimes—sarcastic. Not everyone gets like my sarcasm right away, but Allison got that immediately. I think that's why we became very close. I always hung out with her, and I can't wait to work with her on M3GAN 2.
Speaking of… what would McGraw like to see in the sequel? "I would love for them to add another iconic dance. That would be really fun. It's like a signature M3GAN thing now. I also think that maybe M3GAN could build more robots to help her. That's just my theory. I'm really excited to see what M3GAN does next."
An army of M3GANs? Here's to MEGAN: Uprising!
In the meantime, fans take note: Purchasing M3GAN on disc or digital makes fans eligible to earn points towards digital movies via the Universal All-Access Rewards program. Members can redeem their points for digital movies, swag, and other items. Head to MyUniversalRewards.com for more on that.
Find M3GAN UNRAT3D VERSION, from Atomic Monster, Blumhouse, and Universal Pictures Home Entertainment, on Blu-Ray and DVD March 21.