Movies Reviews
Exclusive: Casa Grande Team Tackles the American Dream in Amazon Freevee's Newest Series
According to Smithsonian Magazine, the definition of the American Dream has — for better and worse — changed significantly since the inception of the phrase. Whereas the original meaning pertained to "a dream of equality, justice, and democracy for the nation," it is now more commonly associated with one's individual wealth and achievement. In terms of cinema, the pursuit of the American Dream has over the years become a popular framework to tell stories of dreaming big, perseverance, and the importance of work ethic. Even further, as America has become a beacon of economic opportunity, it's no wonder then that, by extension, narratives about the immigrant experience increasingly allude to this grander, capitalistic chase.
This view of the American Dream through the lens of migrant workers is the foundation of Amazon Freevee's newest series, Casa Grande, starring John Pyper-Ferguson, Christina Moore, Kate Mansi, James Marsters, Madison Lawlor, Javier Bolaños, Karen Bethzabe, and Christian James, among others. Per its official synopsis, Casa Grande "examines the compelling, everyday realities and conflicts between California's overworked and underpaid farmworkers and the wealthier families who own the farms and reap the profits."
Billed as a Yellowstone-esque narrative with a Downton Abbey-like upstairs-downstairs conflict, the series offers a multitudinous perspective on what it means to survive in America, specifically, the emotional, physical, and moral cost of striving for and achieving economic wealth.
Considering that Ali Afshar (producer / creator), Lauren Swickard (creator / writer / showrunner), and Gabriela Tagliavini (director) are the leading creative team behind Casa Grande, under Afshar's ESX Entertainment banner, it makes sense that the series both idolizes and criticizes the American Dream. After all, Afshar, Swickard, and Tagliavini are each living the American Dream, having spent years hustling, making sacrifices, and committing themselves to their crafts in order to get to where they are today.
Of course, each of their journeys have been different: Afshar was really young when he and his family fled Iran in the late-70s and arrived in Petaluma; Swickard hails from Ohio; and Tagliavini was born in Argentina and studied at the American Film Institute, and found work in both American and Latin American film industries. Nevertheless, what unites them is their pursuit — the ups and downs — of storytelling.
On Building Casa Grande
The idea for Casa Grande was born on the set of A California Christmas. Both Afshar and Swickard were producers and stars of the film (with Swickard also serving as writer). "We went to this small town about an hour north of San Francisco, and we're on this ranch, shooting the movie," Afshar said in our Zoom interview, "and we're sitting there, and I said, 'What if we do a story about Lauren's character and Josh [Swickard]'s character living on a ranch — kind of like Yellowstone?'"
At the same time, Swickard spied a Mexican family and their kids nearby, working and playing on the ranch, and thus suggested to Afshar adding the perspective of migrant workers. Once she and co-writers Alex Ranarivelo and Michael Cruz sat down to write, they carved out five episodes of an intricate family drama that featured multiple moving parts and intriguing subplots, including a son searching for answers about his mother's disappearance, a Romeo & Juliet-inspired love story, the threat of U.S. Immigration and Customs Enforcement, and family grief and loss amidst a power struggle.
Related: Exclusive Casa Grande Clip Reveals Yellowstone-Like Series with Hispanic Influence
What's notable about Casa Grande, more than its immediately recognizable political themes, is how it effectively highlights its women characters. Whether rich or poor, white or brown, it's the women in the Amazon Freevee series who are some of the most complex and emotionally diverse you'll see on TV this year. This is exciting to see, particularly in a western-inspired show, a genre whose history is steeped in patriarchal values and inherent toxic masculinity.
"I was pregnant with my daughter and just honing in on what it means to be a woman in this world that's changing, that's really allowing us to put our foot down and do what we want and get what we want and work hard for it," Swickard said. "It was really important for me to have these matriarch characters, these mothers — they really are the ones making sure there's food on the table. They're the backbone of the family."
On Representation Versus Exploitation
At a time when representation on-screen and behind the camera is at the fore of discussions within and about the film industry, questions are often raised regarding who exactly gets to tell whose story. Considering the premise of Casa Grande and its portrayal of Latinx people suffering at the hands of their white employers (and, in certain cases, I.C.E. agents), it would be an understandable reaction to write off the series as an example of trauma porn or an exploitative production. But it's so much more than that, and it's precisely because of Tagliavini's direction and Swickard's words.
For Tagliavini, the strength of Swickard and co.'s writing is what initially drew her to Casa Grande. "I loved the script," she said, praising the depths of each character and the twists in the five-episode season. More than anything, of course, it was the respect with which Swickard captured the migrants' experience that cemented the deal. "It was very important to me as a Latina to tell a story that doesn't portray Latinos in a negative manner."
Related: These Are the Best Movies About the American Dream
"We did talk to experts in these communities," Swickard added. "We talked to landowners. We talked to migrant workers. We spent weeks really talking to these people, and what I learned from speaking to all of them is that all human beings have this need to love, to be loved, to be accepted and respected." She went on to say that the experience of researching for Casa Grande was "eye-opening" and prompted her to focus on the humanity of the story. "These families are just like my family. They're fighting for what they deserve, for what they need. We really tried to focus, not on the political side of what they're going through, but on the relational side, the human side."
On Changing the Film Industry's Landscape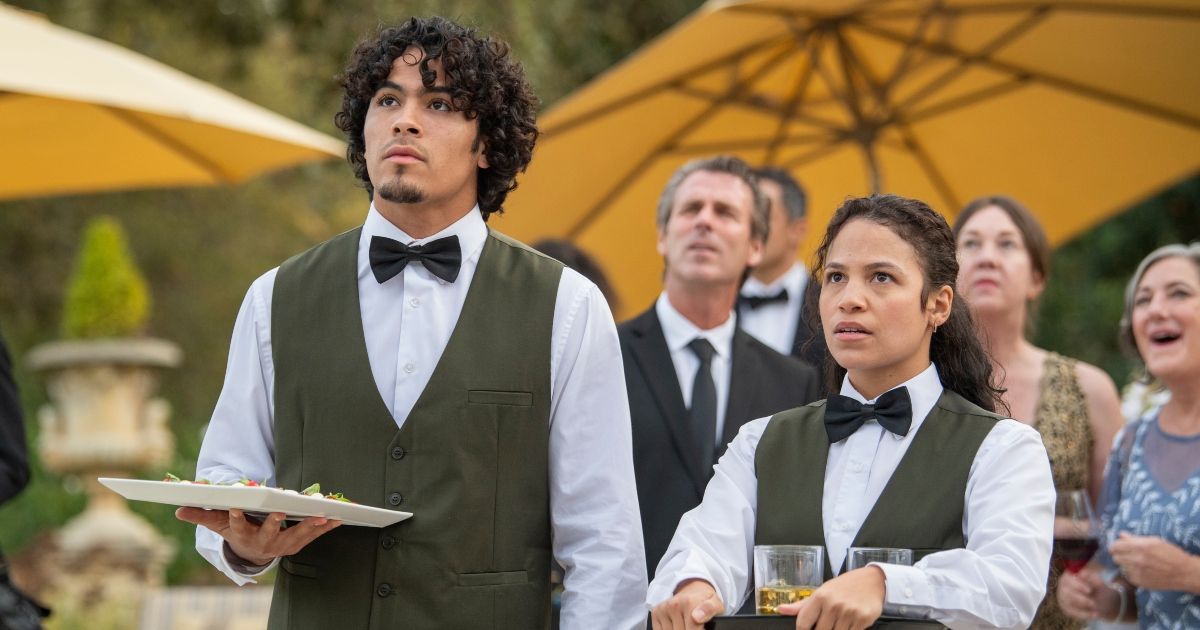 Serendipitously, just moments before we met for our interview, Warner Bros. Discovery officially announced its commissioning of six short film adaptations of classic movies as part of Warner Bros. Studios' 100th anniversary (via The Hollywood Reporter). What's more, the films will be shot through a more diverse lens, and Afshar (along with Greg Berlanti, Angel Manuel Soto, Blitz Bazawale, Jon M. Chu, Danis Goulet, and James Lebrecht) will serve as consulting producers.
"We found six awesome filmmakers, and we also mentored them up with big filmmakers. I'm going to be walking with them from beginning to end," Afshar said, excited to finally talk about the initiative he's helping to run. "The six films will be on Max, and it's a great program to introduce these underrepresented voices, reimagining classics through their lens, to the world."
The way Afshar is describing this new venture, it's clear how much it means to him to be able to hold the door open for newer artists to walk through. Of course, as an Iranian immigrant who owns his own production company, he'll assure you that he and his team "were doing diversity, were telling underdog, underrepresented stories way before" it entered the modern zeitgeist. "It really is a true American Dream story, and that's what ESX Entertainment stands for."
All five episodes of Casa Grande are now available to stream exclusively on Freevee in the U.S..