Trending Globally
Due to extra savings, emissions fall sharply, Urgenda target finally achieved | NOW & More Latest News Here
Dutch greenhouse gas emissions will fall sharply this year. This is due to the growth of renewable energy and strong energy savings, and despite additional use of coal. One day before Budget Day, it can thus be concluded that the cabinet has one less climate concern: the Urgenda target seems to have definitely been achieved. Whether the government is also on track for the 2030 climate target is still unclear.
Main Dutch climate goals
By 2020, greenhouse gas emissions should be at least 25 percent below 1990 levels. This goal stems from Urgenda's lawsuit. Even in the years after 2020, this lower limit for climate policy may not be exceeded.

By 2030, emissions must have fallen much further: 55 percent, compared to 1990. In this way, the Netherlands wants to comply with the Paris climate agreements.

By 2050, the European Union wants to jointly achieve a fully climate-neutral society, the 'final goal' in the fight against climate change.
The ruling in Urgenda's climate case has haunted Dutch cabinets for years. The verdict dates from 2015 and was upheld on appeal in 2018 and 2019.
At the end of 2019, it seemed that the cabinet would not comply with the verdict. The corona crisis followed a few months later, as a result of which the climate target in 2020 was narrowly achieved.
But in 2021, emissions rose again – and the limit was crossed again. In pessimistic scenarios, this situation could persist through 2024. That is problematic for the Dutch constitutional state, lawyers say. The judgment will continue to apply as a (minimum) policy obligation after 2020 as well.
Gas conflict leads to savings: emissions 30 percent below 1990
Now another unforeseen circumstance puts a definitive end to that uncertainty: the war in Ukraine. Even before that started, Russia cut gas supplies to Europe and the gas price increased fivefold. In 2022, that even increased tenfold.
Because of the high prices for gas (and thus also electricity), companies and citizens have started to pay close attention to their energy consumption in recent months, energy expert Martien Visser told NU.nl. These high prices have led to conscious energy savings, such as lower heating, and also to the reduction of energy-intensive production processes.
Added together, this leads to a significant reduction in emissions. Visser expects that this year it will even be "more than 30 percent" below the 1990 level.
Yet that was not a matter of course. Halfway through the year, the cabinet decided to generate more electricity from coal, in order to save extra natural gas. And the combustion of coal releases about twice as much CO2 as with natural gas. Extra energy savings and the annual growth of energy from sun and wind have more than compensated for these extra emissions, according to Visser's statistics.
Additional energy savings reduced greenhouse gas emissions by nearly 8 million tons in the first eight months. Extra renewable energy removed more than 2 million tons. The CO2 increase due to additional coal was relatively small: only 0.2 million tons.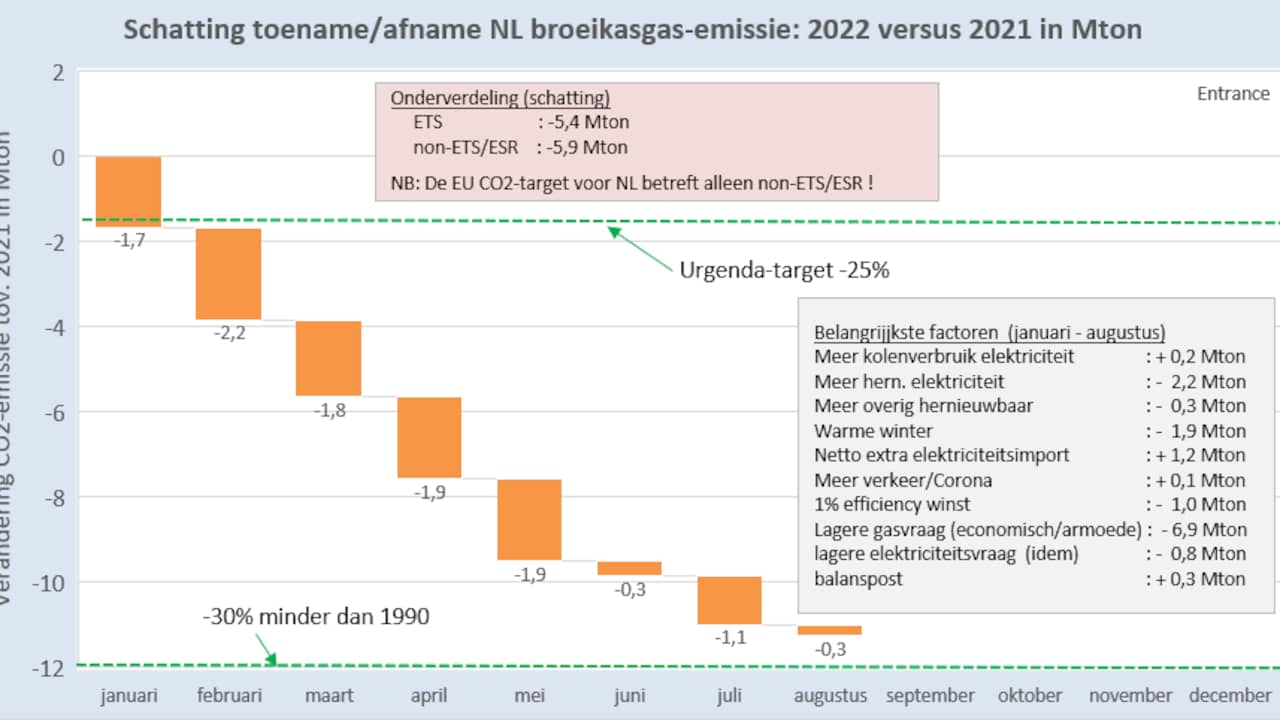 Cold winter would be bad luck, but emissions decline remains
Another piece of luck plays a role in the background: January and February 2022 were soft – which has also reduced gas use. Those weather conditions remain an uncertain factor for the new heating season, which starts next month. Ultimately, this will also affect the final emissions of 2022.
Still, a cold winter will not undo the sharp decline, Visser thinks. In fact, emissions are likely to fall even further. This is because energy prices can remain high for quite some time – and saving therefore continues to pay off. At the same time, the share of renewable energy continues to rise, making the Netherlands less dependent on natural gas every year.
Wait (at least) one more day for assessment 2030
The extent to which the Netherlands is on course for the 2030 climate target can only be properly assessed on 1 November. Then the annual Climate and Energy Outlook (KEV) of the Netherlands Environmental Assessment Agency will be published. The PBL is already publishing some key figures on Budget Day.
Those key figures were already leaked to the NOS last week. This would show that the cabinet is "far from on track" to achieve the climate goals for 2030.
But it is unclear what assumptions are made in that leaked document, says Visser. For example, it makes a big difference whether the low energy prices of the past are assumed or the presumably higher prices in the future.
And based on the KEV, it is annually recurring news that the 2030 targets would not be achieved. This is because that projection is based on existing policy, and any future (additional) climate policy has therefore not been taken into account. To assess this better, we will wait for the first official figures on Budget Day – and the full climate survey six weeks later.
Due to extra savings, emissions fall sharply, Urgenda target finally achieved | NOW
& Latest News Update
I have tried to give all kinds of news to all of you latest news today 2022 through this website and you are going to like all this news very much because all the news we always give in this news is always there. It is on trending topic and whatever the latest news was
it was always our effort to reach you that you keep getting the Electricity News, Degree News, Donate News, Bitcoin News, Trading News, Real Estate News, Gaming News, Trending News, Digital Marketing, Telecom News, Beauty News, Banking News, Travel News, Health News, Cryptocurrency News, Claim News latest news and you always keep getting the information of news through us for free and also tell you people. Give that whatever information related to other types of news will be
Due to extra savings, emissions fall sharply, Urgenda target finally achieved | NOW
& More Live News
All this news that I have made and shared for you people, you will like it very much and in it we keep bringing topics for you people like every time so that you keep getting news information like trending topics and you It is our goal to be able to get
all kinds of news without going through us so that we can reach you the latest and best news for free so that you can move ahead further by getting the information of that news together with you. Later on, we will continue
to give information about more today world news update types of latest news through posts on our website so that you always keep moving forward in that news and whatever kind of information will be there, it will definitely be conveyed to you people.
Due to extra savings, emissions fall sharply, Urgenda target finally achieved | NOW
& More News Today
All this news that I have brought up to you or will be the most different and best news that you people are not going to get anywhere, along with the information Trending News, Breaking News, Health News, Science News, Sports News, Entertainment News, Technology News, Business News, World News of this made available to all of you so that you are always connected with the news, stay ahead in the matter and keep getting today news all types of news for free till today so that you can get the news by getting it. Always take two steps forward
The Article Is In Dutch🡽