Netflix's 'The Diplomat' is a political thriller that follows Kate Wyler as she wades through the many challenges her job poses. While she tackles the conflict between the UK and Iran and ponders the involvement of Russia in an attack that could become a cause of international concern, Kate also has to think about her marriage with Hal. At the beginning of the season, she clarifies that she wants a divorce. However, as the circumstances change, she is forced to reconsider her decision. If you are wondering whether or not she and Hal end their marriage and what their prospects are for the future, then here's what you need to know. SPOILERS AHEAD
Will Kate and Hal Get Divorced?
Kate and Hal fell in love while they were both new to the job. Hal's charming personality makes it easy for people to like and trust him. The same happened with Kate, especially with Hal's ability to make connections, set up things that otherwise seemed impossible, and emerge a hero in whatever challenge is thrown at him. However, when they married, Kate started seeing through Hal's pleasing exterior. She realized that everything that Hal did came at a price.
As Kate's career took off, she found Hal meddling with her job even when she hadn't asked for his help. We see the same thing happening in London, where Hal gets himself kidnapped by approaching an Iranian minister and gets Margaret Roylin involved, even when everyone around Kate tells her to stay away from Roylin. Hal's arrogance and inability to accept that he doesn't need to be the hero of every story becomes one of the reasons why she doesn't want to be married to him anymore. Hal, however, isn't in the mood to let go of her.
He knows that Kate will not change her mind about the divorce without a good reason. While he plays along with her and agrees to see a lawyer to mediate things between them, he works behind the scenes to make Kate a contender in the race for the next Vice President of the USA. He knows she'd be great at the job, but there's more to his agenda. As her husband, he believes that he will be the one running the show. He exhibits his shrewdness in controlling things in London. It would be the same once Kate became VP. Through her, he'd pass on his ideas and push his agendas.
Hal also knows that becoming the VP would mean that Kate couldn't divorce him. If she did, it wouldn't be a good look for the position, and she won't get the job. So, he hyped her up for it, hoping that she would focus on becoming VP, which meant that she would have to give their marriage another chance. When she seems adamant about her decision, he even tries to step back and be the wife, stay on the outside, and not meddle in Kate's job.
For a while, things start to improve between them as Kate warms up to the idea of becoming Vice President and finds Hal curbing the habits she abhorred. Over time, she even agrees to let him back into the loop and allows him some control over what he can get involved in. This shows that either Hal really is ready to change for the greater good, or he knows Kate too well, and this was just a part of his maneuver to make her think that she decided to do more than just sit around and do nothing while she was out doing her thing.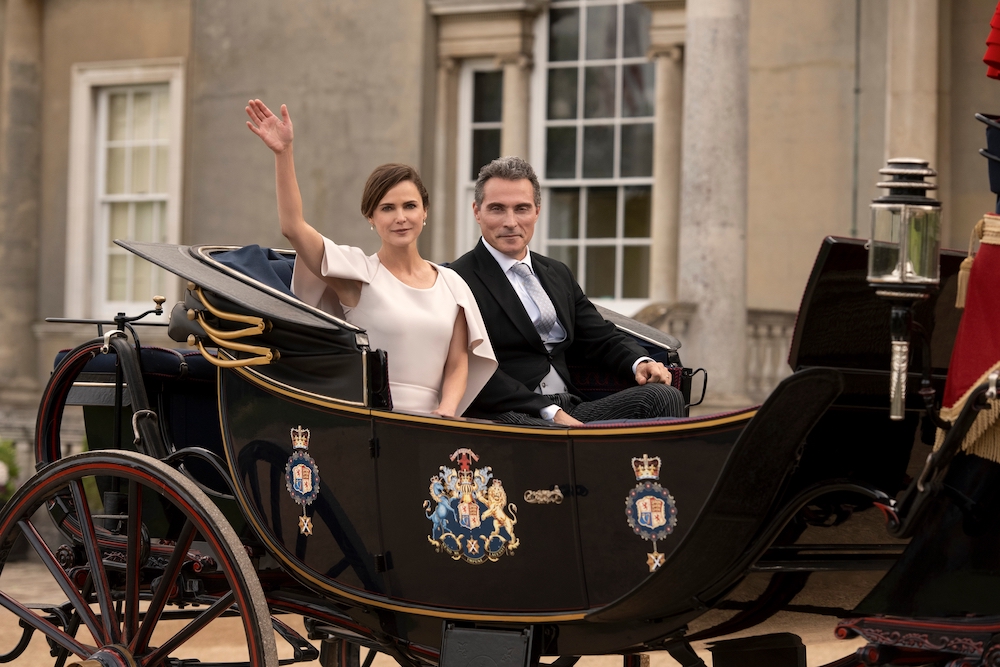 By the end, Hal gives her yet another reason to question her judgment. She allows him to give a speech in her stead at Chatham Hall. As expected, he excels at it and is approached by Merritt Grove, a Tory MP. Kate relates this move to Hal's desire to become the next Secretary of State. Whatever goodwill he had built up is washed away at this moment as Kate realizes that Hal has been doing the same thing he always did. Her return from Paris would have led her to broach the divorce subject again, but then, the bombing happens.
Hal had been very close when Grove's car exploded. He must have sustained severe injuries if not death. No matter their differences, Kate still cares about Hal. She'd expressed the same concern when he temporarily got kidnapped. She didn't hold back from investigating his role in the thing later, but while he was gone, she took the kidnapping seriously and cared for him when he returned. The bombing will soften her towards Hal, especially when she realizes why Grove wanted to meet Hal. While this doesn't mean Hal is not gunning for the Secretary of State position, it does allow Kate to be more sympathetic to him.
Considering all this, we believe Kate and Hal are not getting divorced anytime soon. Their complicated relationship is one of the key aspects of the show, and while there is a prospect of them ending things somewhere down the line, the timing isn't right just yet, especially if Kate makes up her mind to go for the Vice Presidency.
Read More: Does Kate Agree to Become Vice President in The Diplomat? Theories