Movies Reviews
Are Emely and Kevin From Too Hot to Handle: Germany Still Together?
If there's one thing the incredibly intense as well as entertaining 'Too Hot to Handle' franchise has given us in the past few years, it's a new insight into modern-day dating and relationships. Thus, of course, the German version of this Netflix original is no different; its focus remains on prioritizing individual development and emotional connections over physical, sexual attractions. Amongst those to hence (surprisingly) achieve this goal before walking away as a couple were Emely Kopf and Kevin Njie — so now, if you wish to learn more about them, we've got you covered.
Emely and Kevin's Too Hot to Handle: Germany Journey
From the moment 26-year-old professional model/football player Kevin first stepped into "Paradise" with his chiseled body and stunning eyes, he honestly caught the eye of several cast members. However, he admittedly only found himself interested in two beautiful yet drastically different women, 34-year-old brunette designer-model Laura as well as 26-year-old blonde make-up artist Emely. Then as one direct conversation led to another with the former, he got to know her a bit better and decided to do much more than share her bed despite the sex ban already being in place.
Kevin actually hadn't realized Emely was keen on him as well, that is, until she approached him without any hesitation the following day itself, leading to quite a complex triangle early on. After all, Laura felt like she'd already marked her territory, whereas the Flensburg native was open to exploring the "vibes" with both this feisty Berlin-based Latina and the unabashed Ibiza resident. Thankfully, though, the trio quickly understood things could soon get messy, driving the young sexual male to pick based on whom he thought would be his best fit; thus began the tale of "Kemely."
But let's be honest, Kevin and Emely's relationship was far from the cozy romance their fellow participants or we were expecting following the way he had explained his decision-making process. That's because they cost the group an astounding total of €68,000 on their first official night together itself, thanks to kissing, heavy petting, mutual manual stimulation, as well as oral stimulation. Plus, in the ensuing days, they racked up additional losses through more kisses, physical playfulness, and an intense night in the private suite involving essentially everything except the final step.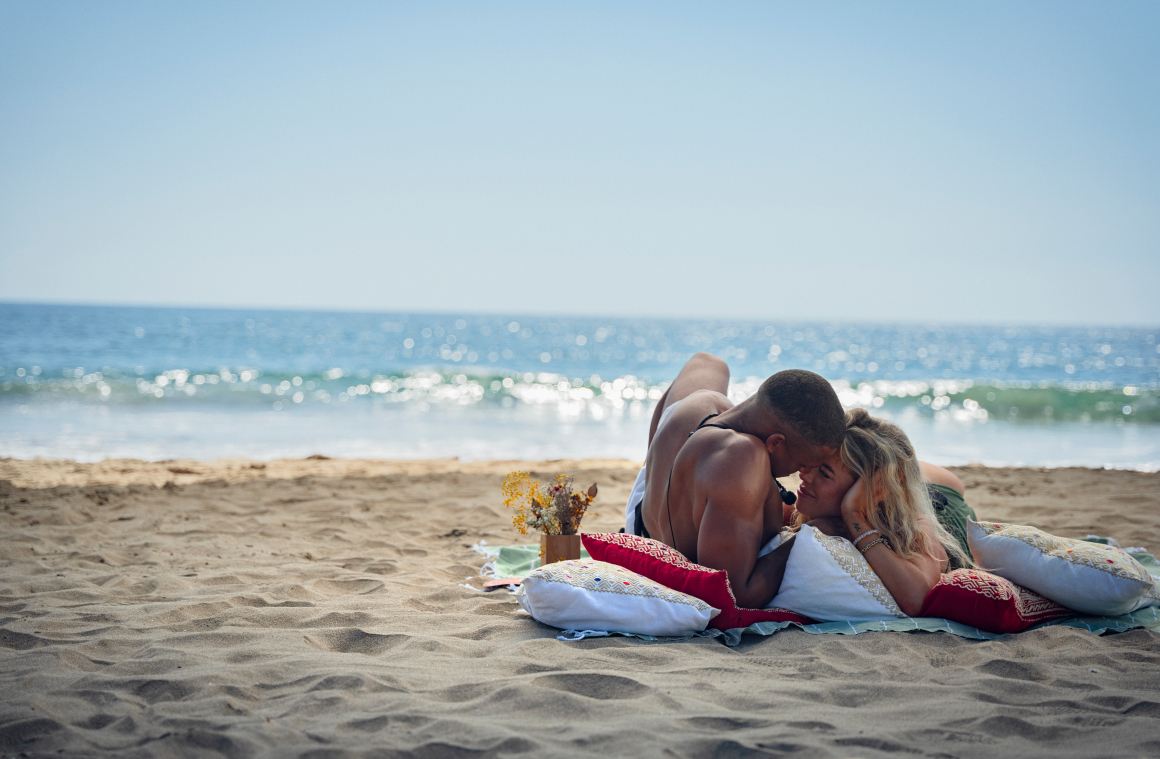 In fact, Kevin and Emely went so far their actions were deemed the most extreme worldwide, which is saying a lot considering all the ways people have let loose on this series' different variations. It hence comes as no surprise that they alone lost €104,000 out of the initial €200,000 prize pot, just to then recognize they needed to prove they were genuinely serious about one another. And the truth is, they did — not only did they manage to abstain from their urges from time to time, but they also continued to build a deep connection that was as emotional as it was comfortable.
Are Emely and Kevin Still Together?
Emely and Kevin did face their fair share of troubles in the form of third-party attention when they were both selected to go on dates with new joiners at different points of their liaison. Yet neither of them waivered for even a second since all they could think of was the partner they already had, arguably making them the strongest couple in this intriguing experiment. The fact they then managed to spend an innocent night in the private suite further established their true needs, leading them to resolve they were ready to move on from their prior manipulative, self-absorbed, sex-based ways.
In other words, against every odd, Emely and Kevin managed to work on their innermost selves, reflect on their past, as well as hope for their future before admitting they are utterly in love. So yes, they walked away from 'Too Hot to Handle: Germany' hand-in-hand as an official couple plus €86,000 richer as the winners — they'd actually earned back €60,000 of this pot themselves through their abstinence.
Therefore, we are happy to report that Emely and Kevin are still blissfully involved with one another, as confirmed by them during their recent interviews, along with their social media platforms. We did honestly worry long distance might get too much for them once they returned to the real world because the artist was based in Ibiza, whereas the model was in Flensburg, but they've since moved in together.
"At first, we had a long-distance relationship… but now I've moved back to Germany and we live there together," Emely recently revealed. To this, her boyfriend added, "[Her] family lives near me. Before she went to Ibiza, she was in Germany for a while and only 20 minutes away from me. That means we had all the time after the show to see each other — so what we had and have doesn't just disappear like that. Then it went back to everyday life, and then I always visited her in Ibiza as best I could."
The couple does admit they probably would not have gone past the physical element if they'd met in the outside world, yet that's because they "were different people" before the Netflix original. That's why their advice to anyone looking for a happy, healthy, deep love bond like theirs is to maintain honesty, trust, hard work, a level of determination as well as open communication. Emily said, "The most important thing is to be honest – with yourself and with the person. To really get involved and open up. Everyone has their own protective walls. If you don't tear them down, you can't really get to know anyone."
Kevin continued, "I think [love is] difficult, especially these days. Between social media and cell phones, everyone always has different thoughts. It's hard to focus. You get distracted quickly. First and foremost, you have to deal with yourself and be clear about what you really want and how you see your future. I believe that is the first step before you can open up to another person." Oh, and by the way, the couple doesn't really regret losing any money because it brought them to where they are today.
Read More: Are Sophie and Akka From Too Hot to Handle Germany Still Together?